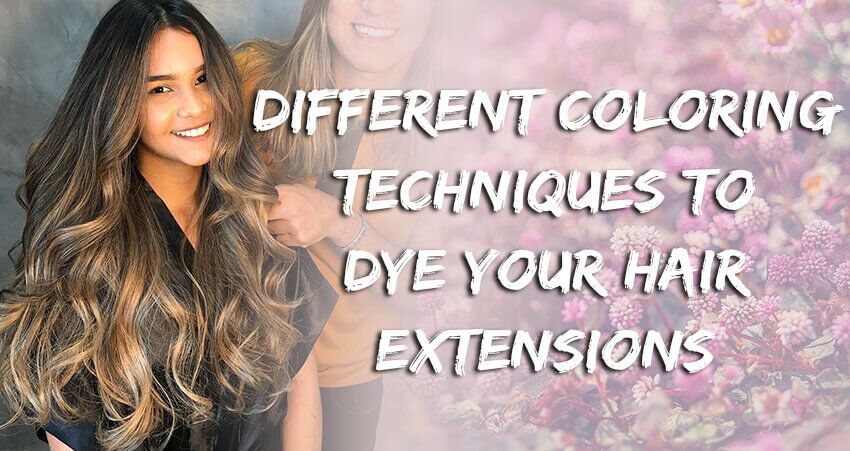 Different Coloring Techniques to Dye Your Hair Extensions
Posted By: Marcella Whyte
Have no ideas how to change your hairstyle? Go for some fashionable colors!

Don't know how to dye your hair extensions and what color to choose? Keep on reading and you will find out.
There are so many methods and techniques about dye your hair extensions that you can use. Also, there are various colors are available for you to choose.
Before you starting to dye your hair extensions, there are some precautionary measures that you should take care and follow. It's not as easy as you might think to get some special colors that your desire. There are some tips that can help you to ready for dyeing your hair extensions. Enjoy the fun during the process!
Tip 1.
Don't wash your hair extensions right before dyeing. It's better to wash your hair at least 24-48 hours before or no wash at all. You may have some argue about this. Clean hair is too slippery to hold the colors on. The natural oils on you scalp would be washed out too so the dye material may cause some uncomfortable feeling on your scalp.
Tip 2,
Get the proper type of hair dye. Do some research about the dyeing brands and materials for different types hair. Natural curly hair, silky straight hair, or wigs, extensions and some others are requested different treatment while dyeing. So make sure to get the right type of hair dye materials before you starting.
Tip 3,
Never forget wearing gloves. It takes a few months that the hair dye colors would finally disappear from your fingertips if you using the hair dye directly by hands without any protection. Put on gloves to avoid such kind of damage.
Tip 4,

Apply petroleum jelly. Most of people even hairstylist will overlook this step. However it's quite important. Apply some petroleum jelly around your hairline and your ears to prevent your skin from being stained
Tip 5,
Do a strand test. If you are not sure about what the final color will come out then do a test on a strand hair before dyeing the entirely hair. Choosing an invisible strand to do the test so even if the dyed color isn't what you desire it's invisible.
After the test, you can go on dyeing rest of the hair by separate the strand applied the hair color already.
Tip 6,

Please follow the instruction of the hair dye products and apply the hair color enough time on your hair before wash it out.
Tip 7,
Wash your hair thoroughly and make sure all the hair dye is out from your hair and scalp.
Five Coloring Techniques to Try On Your Hair
There are a lot of different ways to dye hair and here come 5 guides of color dyeing techniques that you can try.
1. Balayage
A popular coloring technique, called balayage, makes highlights look more natural because of the way they are used. Balayage does not highlight the hair outside or around the face, but uses color to paint the hair one by one. Lauren E. Hack, co-founder of Lauren + Vanessa Salon in New York, told Pop Sugar: "The word actually means scanning in French. "You sweep the color over the hairpin.
Balayage also makes hair look thicker: "Our hair follicles are thicker at the top and thinner at the bottom," Hack said. "With balayage, you can create an illusion of fuller hair at the bottom by drawing thin, thick highlights from top to bottom, never seeing where the color begins and ends. This visual technique means that you can make your hair look fuller without mixing and matching styling products and spending extra time with curlers.
If you dyed the color before at home and you can achieve the look at home with the tips below.
Steps:
Separate your hair
Dividing your hair into for equal parts by doing a hot cross bun method is recommended. Tie each parts piece by piece so it's easy to dye your hair. You need to take your time while dyeing your hair so that final effects come out nicely.
Dye your hair
Balayage is all about the contrast colors so take care to not stain any areas that you want to keep the original color.
You can use the comb applicator to comb the hair strand from middle to bottom and avoid the roots.
You can also use your fingers (make sure you are wearing gloves!) to apply the hair dye on your hair to achieve a more natural effect.
Keep the hair dye on your hair enough longer as the box recommended and wash the hair dye out section by section carefully.
It really takes time and patience to do balayage dye but all hard work pays off! It will make your hair looking amazing!
2. Dip Dye
Dip-dye is the easy and fun technique to get two-tone color hair.
If you want to have a natural look then you can dye your hair 4 or 5 shades lighter than the natural color. Or you would like an obviously contrast then go for pinks, blues or purples and greens. It's just depend on the look you desire and all are easy to achieve by dip-dye.
Steps
Bleach the ends
First you need to bleach the ends of your hair so the color can show up.
Bruch the bleach mixture evenly on the tips of your hair then wrap them in the aluminum foil or cover them with plastic bag and securing by a rubber band. If you are using the aluminum foil, you may need a hairdryer for heating as the instruction. Please pay attention to the instruction how long the bleach mixture can stay on the hair based on your hair color. Too short time will reduce the final effect and too long time may cause damage on your hair.
Remember to wear gloves and apply petroleum jelly to your hair edges to keep your skin safe.
Add the second color
If you want to add another color that different form the usual brown to blonde gradient, such as purple or red, you can apply that color to your hair but do remember to switch a pair of gloves.
This is only for new colors following and if you want the blonde then ignore this step.
Wash your hair thoroughly after all steps finished.
3. Ombre
Ombre is a French word meaning shaded or shading.
Ombre hair darkens at the root through the mid-axis, then gradually lightens from the mid-axis to the end. This is a very exciting way to dye your hair. You can make it look more natural with a few shadows lighter than your roots. Ombre is somehow similar to dip dye. However, the difference is that ombre blends into hair regardless of color.
Steps
First Apply the Color
Use a brush or hands with gloves to apply the color to the tips of your hair, about 3 inches high per section. Make it evenly and naturally without a sharp line.
Then put the hair into aluminum foils and do not fasten them too tightly as the hair strands need room for color developing.
Color to develop
Wait the color to develop on your hair.
Suggest you to leave the color on your hair for the amount of time instructed on the box subtracted by an extra 10 minutes. This is because when you are applying the second layer the half bottom might be overdyed.
Add more dye traveling up your hair
Now open the foil up and check if the tips color is what you desire. If yes then go on add some color higher up the hair about 2.5 inches up.
Wrap the foils and wait for about 10 minutes to color develop. You can check before the times up so the hair would be over-developed.
Wash
Once the color effect came out is what you desired, you need to wash the color dye out of you hair thoroughly.
Ombre look is not difficult to achieve if you take your time and follow the instructions,
4. Highlights
Highlights are color dyeing a few sections of the hair to add highlights to your hair.
The highlights color would never go a few shades lighter than your natural color no matter what base is.
Steps
Choose the Right Tone
Here is a color guide according to the skin tone to get you a natural look.
If your eyes are brown, blue, or hazel with blue or green flecks, you have a cool skin tone then choose shades that are cool-toned as well – such as ashy brown, beige blonde, burgundy red, and blue-hued blacks. Cool skin tones usually look best in silver jewelry, so if you naturally gravitate to silver.
If your eyes are brown, blue, or hazel with brown flecks, your skin is likely warm-toned, and you look best in gold jewelry. Choose hair colors that are similarly golden-toned, like golden brown, wheat-toned blonde, auburn red, and black with reddish tones.
Apply the Color
Apply hair dye as close as possible to the roots, and then drag the color to the bottom of length when the hair is flat on the head. Continue this process until the first layer is saturated.
Then, separate the first inch of the top layer with a clip and continue the process on the next layer.
Wash
Once your hair has dyed with right process and make sure you are rinsing your hair color off.
Half and half head dye
We have seen celebrities such as Rihanna slay this look with the half blonde half brown hair.
It's really a striking hairstyle to make you remarkable.
Steps
Divide your hair evenly down the middle to be two sections.
Dye the first half into the color you choosing.
Dye the second half into another color you choosing.
Do a final wash
Complete wash your hair after all steps are finished to make sure all of the hair dye is out.
That's it and you have the look. It's easy and simple. The final look is depended on the two colors you've chosen.
What look is your favorite and which one do you feel confident to rock?
There are so many ways to give your hair a different look. Comment below and tell us what look is your favorite and which one you'd like to try. Don't be shy to share with us your fantastic hair style with color dyeing.