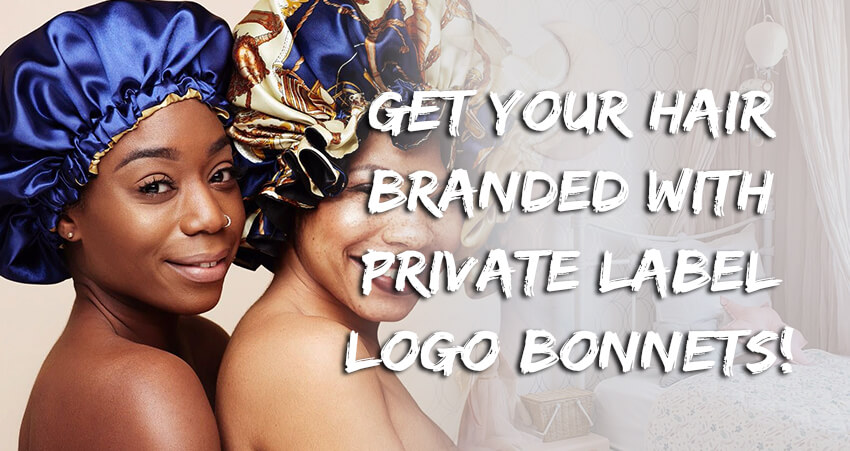 Get Your Hair Branded With Private Label Logo Bonnets!
Posted By: Kate Rodrigues
Get Your Hair Branded With Private Label Logo Bonnets!
Many people are troubled by how to protect their
virgin hair
while sleeping at night. Sometimes you may feel sorry for not protecting your beautiful hair. If you are a
hair business
owner and want to provide your customers with more targeted services, you can consider the opportunity to sell hair bonnets!
At
JC Hair Factory
, we have looked for many ways to better expand your business and help your customers and target audience realize that you are working hard to meet their needs, and you can get more sales. For our virgin hair brand, we provide customized silk hair bonnets
, whether for straight or curly hair, you can incorporate them into your products.
Why Private Label Bonnets With Your Logo.
JC Hair Factory has done a lot of effort in terms of protecting the hair, preventing hair breakage, keeping your hair beautiful and fresh the next day. They are very soft and delicate. Now we know that many
hair vendors
are raising prices. Fortunately, the price of our custom hats is less than $4 in the case of minimum quantity 50 pcs. Our team is working hard to create a more perfect appearance for your new products to ensure that your brand get a good promotion on the market.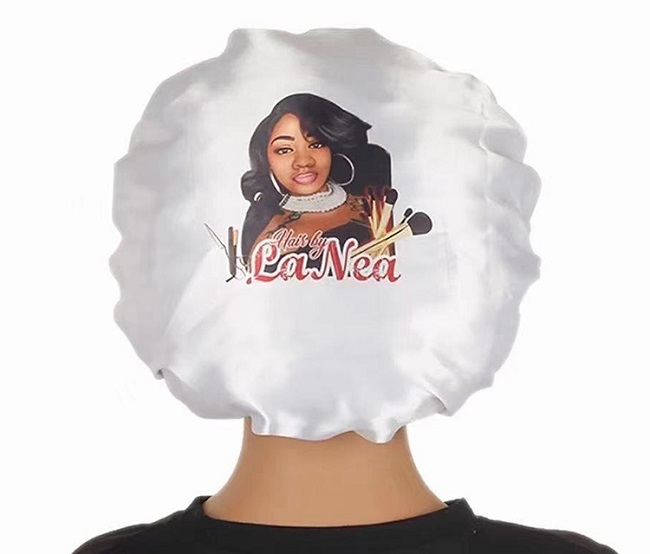 With our bonnets, you will soon know that your choice is correct. You can get more customer attention. We use screen-printing technology, completely hand-printed. When printing, the ink is applied to the surface of the printed engine, and the image to be printed is transferred to the delicate fabric through photography.In order to block the non-printing area, the fabric is used as a template. Sounds tricky, huh? Maybe!
So please rest assured, at JC Hair Factory, we are professional. We will process your products in the most cautious way, and you will receive the products as you wish.
Get Branded Bonnets for your Hair Business
We have discussed why you should invest in selling bonnets, and you should also try to sell bonnets that are branded through JC Hair Factory.
So now you will ask me how to start? For a branded product, the logo is very important. It is a sign of your product in the market. Having a quality logo is very important to your business.When you have a wonderful logo, you need to send it to us for printing in a high-resolution version. Maybe your logo looks great on a computer screen, but it may be very different when printed. We hope that customers submit logos in JPG or PNG format, and the minimum resolution of the logo is 1500 x 1500 pixels and the resolution is 300 DPI,it will achieve the maximum definition.
We have made it convenient for you to submit your logo through your order receipt, which contains a link for you to upload your logo.
After you submit the order, our designer will send you the design files. This will better let you know if you will like it. If you don't like the color combination you originally selected, then just tell us that our designer will modify the color and resend it to you. All customers must confirm the documents sent by the designer. After getting your confirmation, the silk bonnets will be put into production.
I can understand that after you create your own brand, you must want to receive them as soon as possible. However, please note that the process of branding and custom logo printing of hats may take 2-3 weeks. After completion, we will send you the items as soon as possible.
When the production of the bonnets is complete, we will prepare them for shipping immediately.
We use Fedex or DHL Express to ship the bags. Once the order ships, a tracking number will be sent to you via email as well as shipping email updates as your package makes its way to your destination. Shipping times are generally 3-5 days depending on the distance between our two cities.
There is no doubt that adding our bonnets to your business is a good choice.
I think that you also agree with my opinion that adding this product to your hair business, which will receive a lot of attention among your customers. Repeatly, this is not only just about sales, but also you will meet the needs of many customers. Want to increase your sales, now you can learn about our bonnets at JC Hair Factory. JC Hair Factory is one of the best
wholesale hair vendors
in China for more than 18 years. We offer
wholesale hair
,
dropship hair
and custom packaging service to our clients. Our aim is help our clients to make your hair business very easy with providing our premium serivce. Welcome to JC Hair Factory!