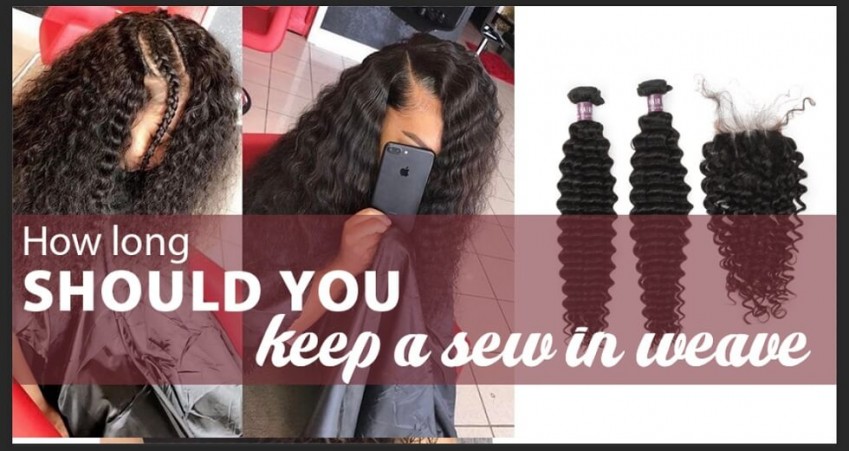 How Long Should You Keep A Sew In Weave
Posted By: Marcella Whyte
"How long should you keep a sew in weave?", "How long can you keep a sew in weave", "When is the best time to take your hair out?". I guess every lady who is wearing hair bundles has these questions in mind. Me too! And I always do. In the most of the time, we want to keep our hair in as long as possible since we paid a lot from hair vendors and get them installed in the salon. However, in my experience, the recommended time to keep a good hair extensions is no longer than 3 months. I don't care how much you paid for it. I don't care who did it and I don't care what a busy and hectic life you are living right now. I just care that you should keep your natural hair and scalp in a healthy state. That's the most important thing. I am going to explain all in details and share my knowledge with you.
a. Shed hair matters
The first thing I want to tell you is that you don't want to keep your sew in installed anymore longer than 2 to 3 months. The reason why is because you are shedding a lot of hair in that time frame. Typically speaking, you are going to be shedding anywhere from 80 to 100 hairs a day. Now add all those days up in the span of 2 to 3 months, you have a lot of shed hair. The shed hair also doesn't have anywhere to go because it is contained in your braids or twists. All that hair is staying very close to your roots and that leads to matting. So if you can redo your hair maybe even a month to two months, that would be great. But I highly suggest that you don't exceed anywhere over three months.
Also, three-month is a time that you really don't want to push anymore longer than that because that is typically the time that it takes for someone's locks to form. When you are doing locks or you are locking your hair, you will notice that as time progresses, all the shed hairs begin gathered together and palm rolled together will turn into a very sturdy lock. Your hair will become very tight within that lock and that's why that time frame of 2 to 3 months is the best when you are wearing a sew in. Anything longer than 3 months will lead to a lot of matting.
b. Take good care of your hair
The second thing that I want you to keep in mind is that if you want to be leaving your installation in for a long time, you have to be adamant about how you are doing your regimen.
What I mean is you have to be making sure that you are shampooing your hair and scalp, you are conditioning your hair and that you are sealing your hair with some type of oil. Also, you want to make sure that you are drying your hair thoroughly hair thoroughly as well.
As I always stated in the different blog post for taking care of your sew in, you want to make sure that you have all of your products involved with your regimen. The same products that you use when taking care of your hair without human hair weave are the same products that you want to use when wearing extensions. So you have your shampoo, conditioner, deep conditioning and you also have a leave in and oils of choice.
Make sure that all of your products are at a watery consistency to effectively put it onto your hair and scalp. Clean your hair and condition your hair and so they can give you the ease of rinsing out all of your products. Because you are going to be keeping your installed for as long as possible, you have to keep up with making sure that your hair is healthy or you are going to have a lot of dangerous problems. You may even have some mold issues or mildew issues if you are not getting the moisture out effectively enough. And that ultimately leads to breakage and hair damage.
c. Change braid pattern in new sew in
The last tip that I want to give you when you are caring for your hair with your sew in is that even though you are going to be leaving it in for an extended period of time, every time you get your sew in re-installed and redone, make sure your braid pattern is different.
The way that I typically do my braid pattern is that I have one continuous perimeter braid that goes by my hairline and sometimes I have two braids and go around my hairline and the rest of the braids abraded to the back cornrows. This is a great braid pattern that you can wear for your hair but because this is the way you are going to be wearing your hair for an extended period of time.
If you happen to get it done immediately after I suggest that you do the braid pattern differently so that could mean maybe you have one perimeter braid instead of two. Maybe your cornrows go back and forth or even braid in the opposite direction.
The reason why is because, over time, you will be training the parts in your hair so whichever direction your hair is being braided when you are washing your hair and taking care of your hair after your sew in. When you notice that all of your hair will be seem to want to go in one direction and this is a problem if you have a part in your hair because it will look like your hair is thinning. Sometimes, this can be the case with most times.
This is not true if your braids are installed very comfortably and they are not tight. You want to see that your hair has a trained part or part that won't go away. But if you are noticing that when you comb your hair and it looks like your hair is thin. It is possible that it could be thinning. That is why it is very important to change up the direction your braids go or just completely after your braid pattern by doing a different braid the second, third, fourth time around.
Those are the tips that I have to offer you as far as you are sewing in when it is too long to leave in your sew in and some things that you can do to keep your hair healthy and also prevent your hair from thinning. Even though you just want to know how long to keep a sew in, I give you all the information as a plus as well. I hope this blog would be helpful and JC Hair Factory provides dropship hair and custom packaging service for your hair business. Please feel free to contact us if you have any questions, we would provide the best service within 12 hours. Welcome clients.
Related products
Related Posts