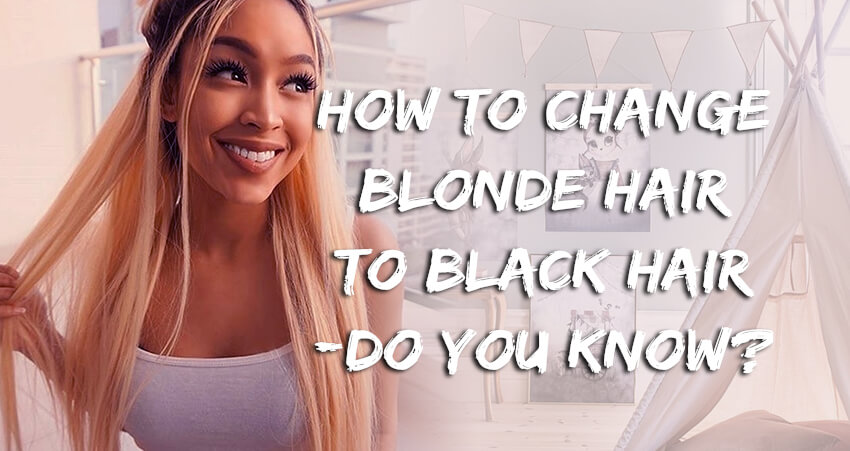 How to Change Blonde Hair to Black Hair
Posted By: Karalyn Johnson
Blonde Hair Have More Fun

When you are natural black hair you might envy the blonde hair and want to change natural black hair into blonde hair. In the same reason, those who have blonde hair would like to try black hair every moment. Women like changes!
This article we would discuss something important to know before for those blondes who would like to go from blonde hair to black hair. Then how to change blonde hair to black hair?
Misconceptions
Before we discuss the different ways to change blonde hair to black hair, we have to clarify some misunderstanding about changing blonde to black.
a. Darker Shade Makes My Hair Healthier
Although dark hair contains protein and is more resistant to injury than light hair, dark hair does not guarantee better health unless you are born with blonde hair and blue eyes. For those who made blondes in hair-salon, we first need to understand that in order to achieve light color, our hair must undergo a chemical process that will destroy important proteins and bonds. To do blondes can cause a lot of damage to our hair. In addition, you may notice that taking care of blonde hair requires a lot of maintenance and care. When you dye your hair dark, you are just adding colors to your hair and the damage caused by chemical treatment would not disappear at all. You have to take care of your hair consistently until they re-build up the proteins and strength.
b. All Black Hair Dyes Are The Same
It's simply False! All black hair dyes are not the same. Different black hair dyes have different undertones mixed which depend on your hair tone. For example, if your hair shows up orange or brassy tone when it goes lighter shade than black hair dye, then a green undertone black hair dye will neutralize the orange or brassy and give you a pure black.
You best consult a professional hairstylist when you are not sure about the tone things. They have more experience to tell which black hair dye will suit for you.
c. Everyone Suits For Black Hair
The hair colors are depended on your skin color and tone. So different skin tone is suitable for different black hair shades.
For the brighter and fairer skin tone, a medium to dark brown will be more suitable for you than straight black hair color which contrast your lighter skin making you look harsh. For medium skin tone, a dark brown or a shade lighter than black will get the same illusion of dark hair. Even the women with dark skin tones do not need to always keep in the blackest black shades. You should consider changing your hair from blonde to black since everyone looks good with black hair.
d. Box Dyes Are The Best Way Of Going Dark
Although I will use a good box hair dye when I have no enough time to go to hair salon. However, as a personal suggestion, it's the best way to consult with a professional stylist since our hair is undergoing a chemical process while going box dyes. The hair colorist can give you professional suggestions about the hair color to match your skin tone. Their skillful technology will keep your skin safe without being stained. The hair dyes contain the chemical compound, p-phenylenediamine or PPDA which might cause irritation and allergic reactions to your skin and scalp during the process. If you decide to dye your hair color by yourself, a strand test a few days before is fully recommended. Remember to put on your gloves.
e. Once You Go Black You Can Come Back
It's easy to go from blonde to black and it's ok to go back to blonde from black though it's much harder. This means your hair needs more chemicals and processes to be applied which will cause a huge amount damage on your hair. For your insistence, your hairstylist might suggest you do not go completely back to black but instead to a dark brown that will be easier to achieve and cause less damage. Actually, there is a really good way to achieve pure black without damage your natural hair, try wear a sew-in closure or wig.
Now The Notices
It's an exciting and fun experiment to change your hair color. There are some notices you might take care when your hair goes black from blondes.
a. Black Hair Requires Maintenance too
Remember that the dark hair requires as much maintenance as blonde which you are deciding to change blonde to black or dark hair colors. Your roots will begin to show the natural lighter hair color after a while, and be sure to apply new dark hair colors on the roots to maintain the consistent perfect black or dark color. The damage is easy tended to show up in your hair such as split ends while it's not obviously in blonde hair. Thus, you need to do routine hair care and frequent trims. All above are better to do by a professional stylist to ensure your hair looking perfect as always.
b. Eyebrow Color Matches
It will look perfect if you have your eyebrow colors to match your hair colors. When you stay in a lighter color hair, you would choose a lighter color eyebrow as well, in the opposite if you go to black or dark shade hair you better to have darker eyebrow to match. But never go to use black eyebrow products even if you can achieve the darkest black hair. Frankly speaking black eyebrows are not a natural color and do not compliment anyone's skin tone. You could consult with a professional to dying your eyebrows or choose darker eyebrow products to fill in eyebrows which is much economical.
c. Upgrade Your Makeup
Your makeup always compliments your skin tone and your personal style. While you change your hair color into black, you would find that some makeup looks much better match to the dark hair. Such as dark color lips or smokey eye makeup can create a mysterious look combine with your dark hair. A bronzer could shine your skin to match your new black hair color in the summer sunshine. Black kohl eyeliner is not the whole world, try a little more colors or bust and you will find your new world!
d. Cool Rinses Will Keep The Colors Staying Longer
With colored hair, it is always a good idea to rinse with cool water to close your hair's cuticle layer and preserve your hair color longer. Don't use high temperature water to wash your hair which will destroy the colors whether blonde or Black. Reduce the number of times to wash your hair as the shampoos can strip your hair colors out too. Once a week wash with moisturizing is a good routine and rinse with cool water before finishing the shower would be a good idea to preserve your hair color longer.
e. Pump Up The Volume
Curly blonde hair has bigger volume because with the chemical treatments the cuticle is wide open and give the illusion of bigger and rich volume of hair. However, when you go to dark hair, your cuticle layers are flat which cause less volume of hair illusion. Thus, you need to creative or increase your hair volume. You can blow dry your hair with your head upside down or using a diffuser to get more volume. Brushing the hair backward to create a more volume style would be a good method for straight and wavy hair types. And for curly or kinky hair types, only blow dry the roots can minimize shrinkage of the hair and keep it big.
Use clip in hair extensions will be a easy way to achieve big volume without damage.
f. You May Not Be Able to Go Straight to Black Hair
We don't want to sacrifice the heath of hair to get the colors. The stylist may suggest you to take the steps gradually apply darker and darker shades to keep the hair's health since color dying is a chemical process. And you could adept the process of getting darker gradually instead of getting a shock of going from blonde directly to black. It's the best option not only get the color's change but also keep the health of the hair.
g. Switch Up Your Hair Care Products
Black hair may require the same amount of maintenance as blonde shades but it's in different methods so you have to change your hair care products to the suitable ones. The cuticle layer is wider open in darker hair than in lighter shades. Thus, the hair products need to stay inside of your hair better to provide the necessary nutrients. Lighter hair requires light and less dense hair care products however darker hair needs thicker higher dense hair care products to permeate into your hair follicles.
h. Beware of Residue or White-Based Hair Products
While choosing new hair care products, try to avoid dry shampoos which will leave grey steaks in your hair or hair gel. Find the products that are darker in color or have no obviously finishing so you would have gray ashy streaks to destroy the whole look.
i. Get New Accessories
New accessories to match new dark hair colors
Hair accessories include bobby pins, hair clasp, ties and buns. Lighter accessories can add edgy touch to your hairstyle and black lighter accessories give elegance and seamless styles, it's up to you!
j. You Look Great
Enjoy the fun and experience of proceeding different colors and be confident with yourself and your new styles whether you are in blonde or black.