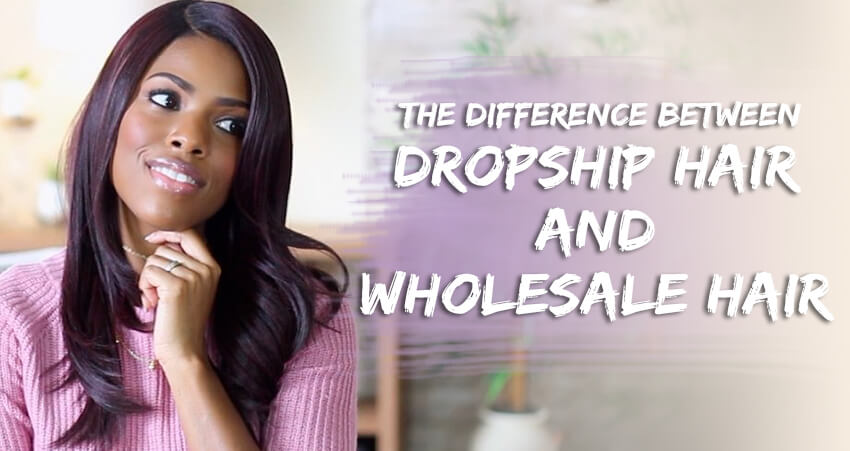 The Difference Between Dropship Hair And Wholesale Hair
Posted By: Marcella Whyte
If you're someone out there who's thinking about starting an online hair store or you want to start selling hair extensions online but you're not sure whether to wholesale hair or to look into dropship hair, please make sure you are 100% concentrated on what we are going to talk about next.
Wholesale hair and dropship hair are two completely different ways of sourcing products. What is the difference between them? Which will maximize your profits? Which is less risk? You should work on a clear plan before starting out.
Wholesale hair
Wholesale ordering basically involves buying hair extensions from wholesale hair suppliers in bulk in advance before you sell hair on your website or on your hair supply store. It is a traditional business model. Depending on how you plan to start a hair business, say for example, you want to start a boutique selling hair bundles, then what you need to do is first of all find wholesale hair vendors or a hair factory who actually sells Brazilian hair, Peruvian hair, Indian hair, etc at low-cost price and in bulk.
Wholesale buying rate usually means you can make more money or get more profits selling hair extensions to your end customers. With wholesale, you have hair on hand and can easily tell the hair quality before it is shipped, establish your brand in a way you want; design your packaging with hair wraps and hair tags, control the shipping time. In other words, you have a full control of the shopping experience with your customers. More importantly, the customer can see, touch and feel your hair before buying, which will definitely increase the orders. These are the key benefits of purchasing wholesale. Every aspect of your business is under your control.
Ordering wholesale hair, it may seem you can get a great price from hair vendors. However, wholesale hair requires enough capital or money to spend on inventory, which means a higher startup cost. Most wholesale hair suppliers will require you to purchase a minimum of 10 bundles or 20 bundles in order to qualify for wholesale price.
Besides, the biggest disadvantage with buying wholesale is obviously the risk of getting stuck in inventory. When you are still new in the hair industry, you're not getting all guarantee that people will purchase hair from you. Buying wholesale is not easy because you need to make sure that you can make sales. If it didn't sell, then you're left with all your money tied up in stock.
In general, if you have the money to spare and guarantee there is already people ordering from you, you can definitely go wholesale.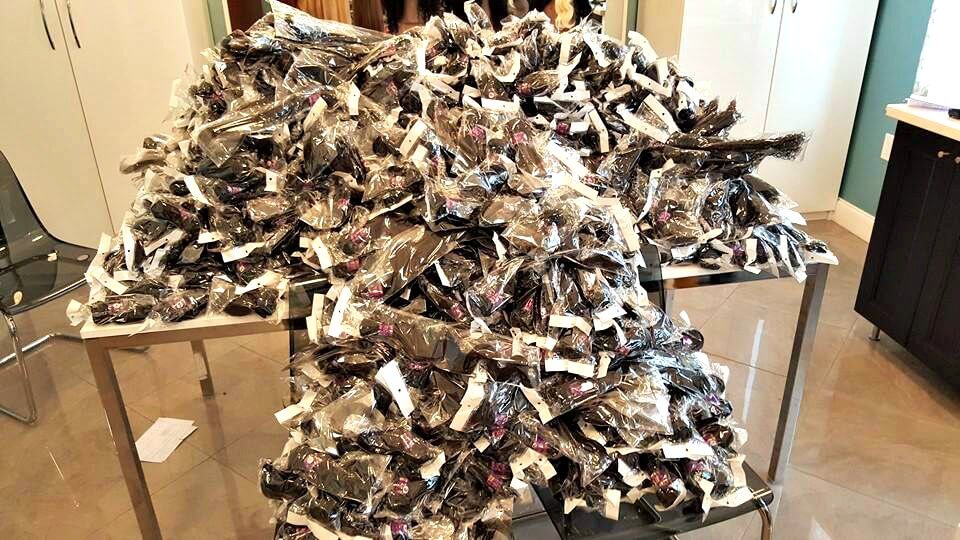 What is dropshipping and how does it work?
The second way to source hair extensions for your business is dropshipping. In the wholesale model, the first thing you are going to do is find a wholesale hair distributor with a low price, order hair in bulk, store it in your stockroom and then resell hair on your site or boutique with a higher price. However, you can see a totally different way to do business with dropshipping.
With dropship, you don't need to buy hair inventory before you get the order. You find a trustworthy hair supplier who offers dropshipping hair service. You basically start selling hair with a higher price on your website. When a customer places the order to you, you pass the order over to your supplier. Your supplier deals with packaging, shipping fulfillment and everything else while you sit back relax and keep your profits. That's how dropshipping hair process works.
The most crucial benefit for dropshipping is you can sell anything with no inventory. It's low risk and low cost to enter hair industry, which is the reason why it's an attractive business model for a lot of people and the reason why is getting more and more popular these days.
Buying a hundred hair bundles, I mean wholesale, also costs a large sum of money. It also limits various bundles at different textures and lengths you're able to buy supposed that you have a small budget like $5,000. Obviously, there's limited inventory or stock that you can buy for that five thousand dollars. Do you know the game has been changed? With dropship, you can sell products ranging from hair weaves to clip in hair extensions, from lace closure to lace wigs, from colored hair to ombre hair that is listed on JC website because we already have the products in stock.

#1. Inventory
We minimize that risk for you to start a hair business. No worry about getting stuck in the inventory. We keep the inventory. We deal with the order fulfillment. All you need to do is just list those products on your website as though you own them and start driving some customers to your website and start making some money.
#2. Profit margins
The aim to do business is making money. Profit is what you really care about. Some people say with dropshipping, your profit margins are gonna be a lot less because you buy like a retail customer instead of wholesale. It may be true if you choose the wrong hair vendor for your business. JC hair is a factory-based online store. You will find your dropshipping profit is almost the same as wholesale since all the price listed on jcwholesalevirginhair.com is the great wholesale factory price with no minimum order quantity.
#3. Hair branding
We know a lot of people out there want to start their own hairline for a long-term purpose. Yes, hair branding is important for hair business and the customer will remember you and come back. No worry about the branding things if you work with JC hair factory. You can easily find hair tag, hair wrap as well as silk bag on our site. Your customer will never see JC hair information just like they purchase from you.
Dropshipping hair program does sound excellent. However, nothing is 100% perfect. In the wholesale model, you can go for any hair distributor offering the high-quality hair extensions. You buy the inventory and they ship to you. Dropshipping means a closer business relationship with your supplier than just buying wholesale since they handle everything for you. You care It definitely takes your hard work and it is not easy.
The final thoughts
Yes, dropshipping is a great way to test the market, test your skills, test your expertise especially if you still a beginner and completely new to the game. Starting with dropship to see if people are actually buying your products in the first place, see what products sell actually quite well before you invest in wholesale. If you feel that people are purchasing from you, you can always use that money and reinvest in buying wholesale instead of risking your savings, risking your investment.
Related products