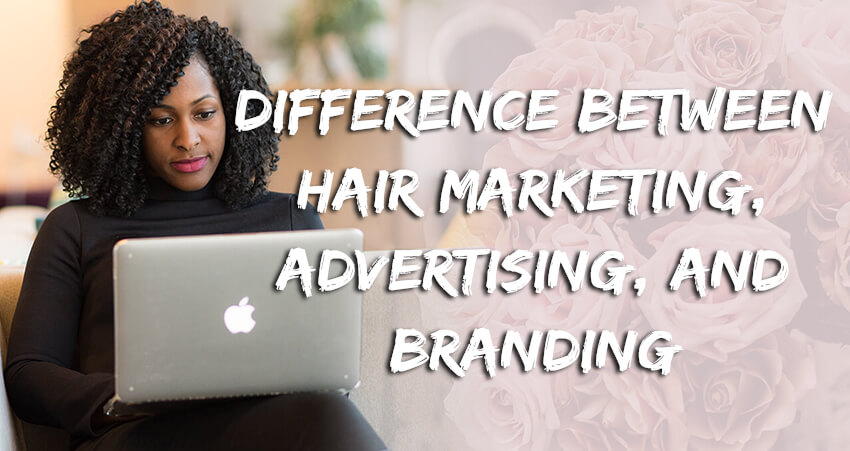 The Difference Between Hair Marketing, Advertising and Branding
Posted By: Marcella Whyte
What is the difference between hair marketing, advertising and branding.
While we are talking about
hair business,
the hair marketing, advertising and branding, everybody know them but it is difficult to define their difference. The three things help you to expand your sales and obtain your customers. They are different but relevant to each other. Both advertising and branding are a part of the marketing process. It is very easy to reference one while meaning the other.
In this article we are going to help you to understand the difinition of each components and find out the tip how to combine them to improve your hair business marketing.
A lot of people think the advertising on social media is the marketing when asked.
This is because currently advertising by an influencer to post your hair is the new trend that most of people get the information through this way. So a lot of hair business company use it to publicize their brand and increase sales which works. However, this is not the definition of marketing, it's a part of marketing which calls a marketing tactic.
Marketing is a process to make your products meet your ideal customers.
It's not just one action, there are several steps including:
Pricing the hair extensions accurately in dollar.
Promoting your company as well as your hair products by using different channels that you can be affordable, i.e. Facebook, Instagram, Youtube, or Google Ads to advertise, and placing these promotions places that your customer frequents physically or digitally.
Selling to the customers that you pinpointed in the beginning.
You need a marketing plan should include statics of other hair companies sales, your demo, and sales objectives that you can achieve in three, six and nine months to verify your marketing efforts.
Your marketing department must have some connection to the products you plan to sell so they can identify the key factors or selling points of the products while making marketing statics.
Advertising is an action part of marketing.
It involves crafting a message to send to your target customers and then finding ways to get that message to them via television, paid media, newspaper, radio, or any other medium.
Usually this message will be blasted and re-blasted across all of the mediums that you used until the sales hit the goal that the campaign is successful.
Creating the Perfect Advertising, a
perfect advertising including below factors:
Whom – who is your advertisement for?
What – what does the advertisement say?
When- when will the advertisement play?
Which channel – which channel will you select to play your advertisement?
Your advertising should be eye-catching and memorable as there are so many advertisements everyday and everywhere. Keep in mind that your advertising will make your company and products are trustable that no one wants to do business with a company that they cannot trust.
Last but not the least is that put your contact information in your advertisement include your web address, telephone number or other social media handles. Otherwise you invested a lot of money to make an unreachable advertisement.
A beautiful website and a logo aren't enough to define your brand. Branding is the creation of your company's perception. It's critical to your hair business brand to create a personal brand and sincerely shares who you are and what you represent.
You can create you branding in two ways, the physical brand is used to identify your company and products, and the response to doing good business and professional actions.
Physical branding ways can be the colors you use, your logo, the font type, the layout of your website
The retail hair industry is saturated and the online shops are increased recently years. How to use your branding to evoke certain feelings for your company that others may not have which can make your company stand out? Traditional branding may entice you to use brand colors in traditional family. However, you may want to use something different to let your target customers to see that your company is not only a beauty vendor but professional. For example, you show the factors that how clean your logo is as your establishment than make sure all your products, packaging and other relevancies are push this narrative.
If you invest in quality branding, you'll make your customer feel reliable to invest the quality via purchasing from you.
There are some additional steps to create a brand image in physical way:
Make sure your brand colors combine well together, and your logo is appeared on all branding and packaging materials such as label, box, and bags.
Your website works quickly and has a clean layout. Quick response and efficient problem solving is the key point to make your customers feel safe to purchase from you.
Well control your hair vendors in order to ensure the hair quality.
To set yourself apart from other brands include a personal thank you card with your orders.
Intangible Branding Tools
Customer's reviews and their promotion of your company to outside sources through feedback will help you improve company brand.
We can use intangible branding tools to impact those prospective customers, they are helping you build your brand via word of mouth, view your company.
Below list some examples of what you can do impact the perception of your brand:
We always say that customer is God. This is because they not only come back, but also bring people with them to your business, if they are treated with respect. Practicing and demanding quality customer service to every customer regardless the dollar amount they are spending and you'll reward.
Launch goodwill sales that cater to your community. Let people know that you care about significant events in their lives. Many companies use this idea when doing their back to school hair sales; it is a huge victory for hair companies that cater to those older school-aged children, or college students' mothers.
Keep developing new products and hair types or colors to show that you are ahead of the trends, your customers could shop the new trends with you.
Although all these initiatives are mutually reinforcing to boost your company's image, they are not the same in working way and effect.
To maximize the overall effectiveness of marketing activities, you need to know how to use these elements to get more sales from your hair company.
Advertising will increase the impact your brand. Branding promotes both inside styles you create and outside world sees your brand. Marketing uses both advertising and branding to hit your sales objectives.
Your marketing campaign experience and advise are highly welcome to share with use in below c
omment column.