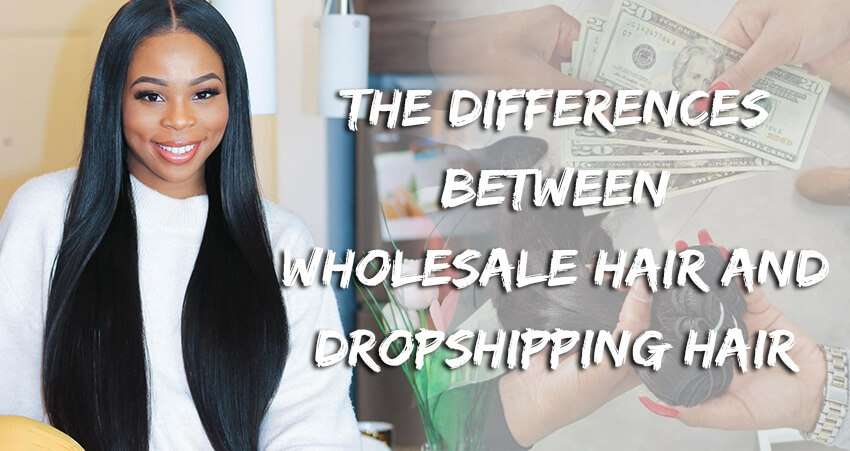 The Difference Between Wholesale Hair And Dropshipping Hair.
Posted By: Julie Morris
There are so many ways to do
hair business
and make money in the market. When you
start a hair business
, your goal is to maximize profits while keeping management and procurement costs low. Two things are essential to your hair business. One is product quality, and the other is procurement cost. You can find the best
hair vendors
, but storage and inventory are completely different concepts.
Wholesale Hair
Wholesale hair purchase refers to the purchase of products or commodities from
wholesale hair suppliers
at wholesale purchase prices. This means that you get a discounted price, not the retail price you would normally find in stores. These discounts can help you buy the products you need in bulk, and you meet their minimum order quantity. Although this will help you get the products at a lower price, you will still encounter many problems, such as products that have not yet been sold. . If you invest a large amount of money at one time, it will be difficult for you to ensure that the products are constantly updated and all your products can be sold.
Indeed, by buying
wholesale hair
, you might think that you are getting a lot. Separate wholesale customers from retail customers, and encourage companies to give them additional discounts for wholesale purchases. The difference between retail and wholesale prices is enough to persuade companies to invest a lot of money to purchase products at a lower unit price. It can then be sold to the end customer at a retail price, thereby obtaining a considerable profit.
No company can ignore the consequences of such savings. Wholesale buying also means that you need a warehouse to store your goods. If you are just starting a hair business, this may mean that you have to set aside funds to buy inventory, rent warehouses, and most importantly, need to stay ahead of the competition.
What is Dropshipping Hair?
There is no doubt that wholesale buying is an additional advantage, but
dropshipping hair
takes it to the next level. All you need to do is to register an account with us. When visitors view the price given on the website, they will see the retail price. Found that the price is lower than many competitors, this is its advantage. The moment you enter the website as a member, the price will change to reflect the wholesale purchase price.
You can choose from various products listed on the website. From clip-in hair extensions to sew-in extensions, from closures to branding-You can find everything you need for your hair business on our website.We do not have a minimum order quantity, you just need to buy dropship members on our website, we will remove you to our dropship group, then login to your account and you would see discounted prices only available for our dropship members.
If you are a hair stylist or own a hair salon-this should be very helpful for you. You can order the goods you want online at the price you think is appropriate. If you sell hair to customers, then your product needs a reliable supplier. Once you have registered your own brand website, you can use Dropship service.
Dropship hair allow you to place smaller orders after logging into the website. You have a customer who wants a certain style and you don't want to stock the product. For convenience, you can order a smaller order. The advantage is that you don't have to worry about inventory and high moq. With
dropship hair
, you can order a specific number of products needed to start your business and ship the packaging with your logo to your customers.
If a customer wants to order hair in your salon or from your hair-receiving website, the order will be forwarded to us and we will process it. The package will be shipped to the customer in 2-3 business days as a package containing your brand and logo. You don't have to worry about logistics, transportation, tracking, inventory, etc.
Now, you can consider whether dropship buying won. You will get the same attractive prices as wholesale purchases without worrying about inventory.
By registering a drophip membership of
JC Hair Factory
, you have the opportunity to use the services of JC Hair Factory, including dropship hair extensions, wholesale prices,
custom hair packaging
and order fulfillment.
When you register as a member and open an account with JC Hair Factory, you will get the following benefits:
Prices of all products listed on the website. This means that you first provide your customers with a very competitive price, and more customers will contact you.
But it's not enough to be known for offering favorable prices. You must be able to provide high-quality products. If your product is reasonably priced but the product quality is not good, you will lose business. The next important thing is to ensure that your products always have the highest quality. You can rest assured that we will only provide the best products to your customers and our customers. We know that new business needs to be promoted. This is why we have tailored plans for hair salons, stylists and hairdressing companies. After becoming a member, you have the right to purchase products at wholesale purchase prices. After logging in, you can also enjoy the Dropship service. We have no requirement on the number of members purchased.
All you have to do is to send us your brand logo details, and we will organize everything for you.
After placing the order, we will pack the hair under your brand and ship it to your customer. We will also send a tracking number so that your customer can track her package all the way. In this way, you don't have to stock product inventory, but you can do like advertising. You can get the best of both worlds. This is the advantage of dropshiping hair. JC Hair Factory is one of the best
wholesale hair vendors
in China for more than 18 years. We offer best
wholesale virgin hair
at the most competitive factory prices. Welcome to visit our factory!