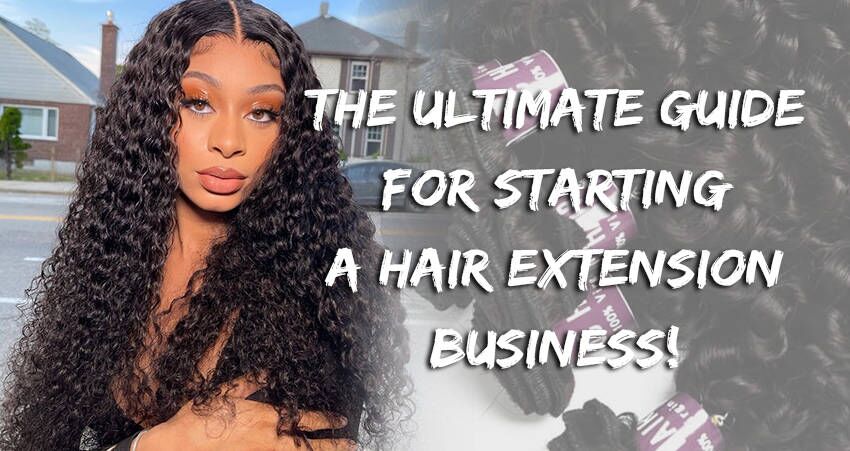 The Ultimate Guide For Starting A Hair Extension Business!
Posted By: Karalyn Johnson
With the booming human hair industry, it is obvious why everyone is interested in
starting a hair business
. "Fortune" magazine cited about 5 billion US dollars in the market value of receiving and issuing! Due to the high demand for
virgin hair
products, sales and delivery is a very profitable business. If you start a
hair business
, you will create unlimited possibilities. If you are interested in starting your own hair business and don't know where to start, then you have come to the right place. Here is your guide to starting a virgin hair business.
Step One: Write A Business Plan
A business plan is a template for a business . Your Virgin Hair business plan will help you focus on your strategy, manage milestones, assign and track responsibilities. Your business plan will also help you manage your funds using forecasts of sales, costs, expenses, and cash. A good business plan is a living document. When you understand your customers, effective and ineffective sales and marketing methods, and what you have mispredicted for the forecast budget and corresponding adjustments, you will continue to return and update it.
Six Things You Should Include In Your Business Plan
Executive Summary
This section is a description of your business and plans. This is the first one in your plan, preferably on one page, maybe two pages. Well, if necessary, write it at the end. Your execution conclusion should be: One to two sentences of what your business does.
Opportunity
This section answers the following questions:
What are you selling?
What problem did you solve? Or, what needs do you meet?
Who are your target markets and competitors?
Implement
How do you seize the opportunity and turn it into a business? This section should cover your:
Marketing and sales plan
Operations
How you are going to measure your successes
Team
Provide a summary of your team and briefly explain why you and your team are the right people to bring your ideas to the market.
Financial plan
Highlight the priorities in your financial plan. Create a chart that shows your planned business, your funds, and your profits.
Include your business type ("how to make money").
Combine your financial needs
Step Two: Find Best Hair Vendors
The second step is to find best
hair vendors
. Finding hair vendors is very important to your business. You need to make sure that the communication is good, their hair meets the standards, and their prices are great for you and your hair business. When you are looking for
wholesale hair vendors
, here is a must-have list!
Must Haves From Your Vendor
Good platform communication-you should be able to contact them via phone, email, and social media. There is nothing more unprofessional than not being able to get in touch with your hair vendor when something goes wrong.
Quality-How is virgin hair processed and collected? mix? manufacture? And disinfection?
Does your company implement it internally?
How did virgin hair come from?
How is the virgin formed?
Is it possible and the length?
Can I use the front, 360-degree front or back?
Do I need to open more orders after payment?
Is there a minimum?
Is there a discount for bulk orders?
Are you a private label company?
Do you have samples?
What is the return policy?
Can I have photo confirmation before shipment of the hair?
Are the cuticles aligned?
Is the length measured stretched or unstretched?
Single or double drawn?
Is the bundle from one donor?
Is there restocking fees?
Do you drop ship?
However, the questions are endless, and we have developed a list of the most important questions for you and your business.
JC Hair Factory
is happy to be your hair vendor and develop your hair business.
Step Three: How Much Are You Going To Charge?
If customers are asked to pay too much for the sending and receiving, they will stop buying, the fees are too low, and your profit margins are terrible. No matter what product you sell, the price you charge your customers will have a direct impact on your virgin hair business. Before setting a price for your virgin hair, you must understand the cost of running a hair business. If your product pricing does not understand the cost, your cash flow will accumulate negative, you will have to exhaust your financial resources, and eventually your hairdressing business will fail.
Determining Price
Cost of Materials + Cost of Labor + Overhead = Total Cost
Total Cost+ Desired Profit (20% of sales) = Required Sale Price
Determining Margins
The profit margin or gross profit margin is the difference between your total sales and these sales prices. As a percentage, gross profit margin is a percentage of net sales.
Total sales (revenue)-sales price = total profit range
We can give you good advice on the price.
Step Four: Register Your Business
Choosing a name for your business is an important step. You want to make sure that your company name is easy to understand and conveys the role of your virgin hair business. The name of your hairdressing company should also be prominent enough to remember. Take this step to formalize your business and ensure that no one else can use your name.
When you register your company name, you not only comply with the law that requires this step, but you also protect you. Once you have registered your company name, no one can use it. There are three ways to register your company name.
Register as a (DBA) Doing Business As
It is also known to register your work as a business name, to register as a fabricated business name. Must be registered with your state or county clerk. First, you have to look for the name of one company so that other companies don't use it. If the legal name is used as the name of the company, there is no need to register the company name.
When you consider how to register a company name, you need to determine which structure is best for your virgin hair.
Creating an LLC or a corporation.
Submit the join article or organization article for your state.
Registered trademark (optional)
When you register your company name in your state, if another company uses your company name in your state, you will get additional protection. Federal trademark registration protects every state.
You must apply to the U.S. Patent and Trademark Office. Make sure that no one else has a similar name or your application has been rejected.
Register for EIN
Determine your access rights
If your business is located in the United States , you can contact EIN online.
Taxpayers must have ID numbers (SSN, ITIN, EIN).
Application
You need to complete the plan in one lesson.
Your session ended with 15 minutes of inactivity; you will have to restart.
In addition, once the approval is completed, you will receive your EIN immediately. Then you can download, save and print the EIN confirmation notice.
Brand Your Company
Once you have completed the steps above, it's time to begin JC Hair Factory. Logo, website address (URL), website, business card, hair tags, etc.
Start Doing Business
Starting a hair business is exciting! Before sharing your business with virgin hair, everything is in order and you are guaranteed to work uninterrupted during the first sale! The ultimate guide to starting a business with raw hair will provide the right steps for your journey as an entrepreneur and business owner. JC Hair Factory is one leading
wholesale virgin hair
factory in China for more than 18 years. We offer
wholesale hair
,
dropship hair
and private label hair service to our clients for worldwide markets. If you have any questions, please do not hesitate to contact us directly. Welcome!