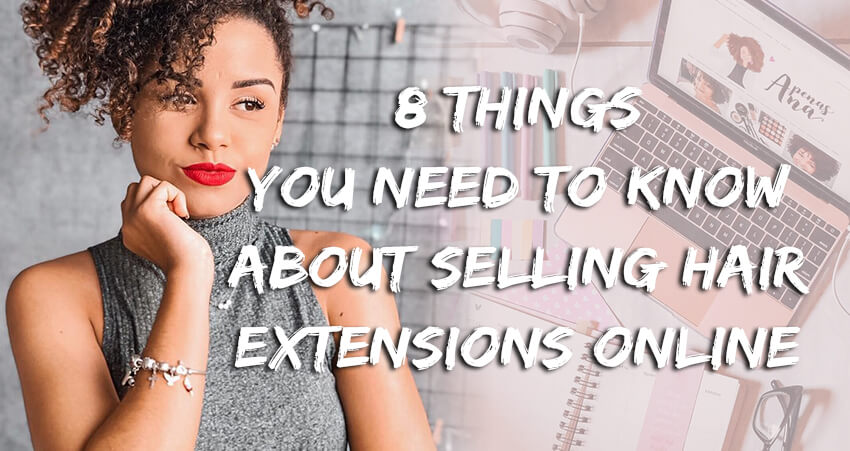 8 Things You Need Know About Selling Hair Extensions Online
Posted By: Marcella Whyte
Shopping online is to stay especially in hair business in 21st century! With the growth of online hair business in recent years, most of the hair supply store is slowly but surely raising the prices to stay open, which is prompting us to turn more to online hair companies. In addition, online hair business offers unlimited selection of hair types and textures.
There is no physical space limitation for E-commerce online hair store, which enables us to get every imaginable wig, sew-in, ponytail and clip-in. You will never know how many times my favorite hair Youtuber has put on a wig that is shopped online stores instead of a hair store near my house. Online selling hair business is such attractive which can offer you so many possibilities and bring your business up to an infinite area then you can offer more to your target market.
However, selling hair through e-commerce channels is not as easy as you might think. There is some misunderstanding about how easy it is to build an online business. Unfortunately, when considering all the parts of your e-commerce hair site to make the sales needed to be successful, some basic essential factors are underestimated.
Let's keep reading and find out what common assumptions are true facts and which are fiction when it comes to selling hair online.
Facts
1. Deeply Understand Your Customers
You might attract different types of buyer to your website when selling hair online which you need to identify.
Always keep in mind that the buyer's wants and needs come first. This doesn't' means you need to know their names, ages, email address of your customers.
You need focus on getting to know your audience by the type of content that they like and the products that they use. For example, in the hair industry, this may mean who they would like them to be attracted after they recreate a look or change a style, or the kind of influencer that they would like to see their hair style. You can recreate similar images on your website through this information to make them attractive to your target customer so they want to buy from you.
If your customer is more prefer to the "convenience factor" lifestyles that your site offered, they might go to you and buy from you too. Find out what the audience's needs then overlap your products and you get a sweet spot!
If you are not succeeded to do this, you may end of selling to the wrong person or selling nothing and have a lot of stocks.
2. Nurture Your Potential Customers
Do you know that 92% of customers don't buy at the first time when they visit a website, they are just for curious or research?
They want to know what you can do and what the prices are, then compare to the prices that they've known in the market. Sometimes they're really just having a view.
As a business owner, your job is to make sure the causal visitor come back and spend some money on your hair products. If they are satisfied with the hair they bought, that means they might return to your website and spend more money on different type of hair extensions.
What should you do to this 92% causal customers? You need get them back at least half. Take the advantage of this 92% and do a lot of nurturing through following three ways to get some back to your website.
In order to close the sale, you make sure that all three ways come together to those causal browsers.
Automated marketing is the traditional way of sending regular emails to customers after they sighed up for an email list.
It's important to make sure that you contact the listed customers at least twice a month via email with new content on your website, product promotions, and general information. Never overload their inbox otherwise they may unsubscribe from your list but make sure you will send twice a month at least.
Do some personalized email marketing:
Invest in an abandoned cart system so that you can track how your customers interact with your website.
If you notice that a customer shopped a silky-straight clip-in extensions and now the shopping cart is empty, then you may send them a personalized email with some tips how to take care for straight clip-in and even style it. And also give some curl clip-ins in similar size (which means the size is suitable for her head) as new suggestion. They might come back to you next time when they want a curl clip-ins.
Hitting them up on social media:
Narrow down your target customers. When they on social media, you will know where they're going.
Their IG will tell you what kind of pictures attract them; which colors schemes they like and how they respond to sales language. Use this information to adjust your website page, post brand pictures in a way to attract them.
For example, you can publish general pictures of celebrities that customers care about, but don't post the pictures have nothing related to your website. Make sure celebrities wear a hairstyle that you will, and emphasize that your website offers something similar to the "start" look!
Do some party or brand activation event:
Though you are doing online hair business, you can still create an opportunity for a direct sales strategy.
Cooperate with a local Boutique and let people see you are in the outside environment to meet your customer face-to face. People will thrust the person who can cooperate with a brand/store that they are already know and trustable already.
The next your audience will connect with you not only just through your website, but also with you personally. Grab the opportunity to introduce them to your website after purchase directly from you during the meeting.
They will be a regular customer to your website with enough nutrition.
3. Do some investigation on your pricing
It's a difficult task and need a stratagem to fix the price at the beginning.
If your price is too high, then you will have no competitive in the market and miss out on sales. In the opposite side, if your price is too low, you will miss out on profit. Both sides which you are not willing to happen. Thus, you need to find the balance between and encourage those people who are a little frugal are willing to spend the extra money on the quality. For those people used to spend cash quickly, it's ok to spend less and keep some coins.
By putting the label on your products with the key buzzwords like "High-quality" or "Best-seller" you can make the price a little higher which can validate your price decision. Try a lower price than your original price with words like "PROMO" for some basic styles.
Justify your pricing decisions by labeling the products that you have with key buzzwords like "High-quality" or "Best Seller" you can then price the hair a little higher. Use words like "PROMO" to try pricing something at a lower price point than you initially thought.
Most of all people would like get a good deal even they've bought much more then they planned in the end just because they wanted to use a coupon. Bundle deals are also a good way to promo. Remember you pick up on or two ways once time instead of all, otherwise your customers will be totally confused.
Different experiences on price will help you find out the right price and get your business finally on board.
3. Grab the Short Attention Span
According to the research, people have the attention span of seven seconds at the first view. Therefore, you need to grab their attention when they first come to your website. Otherwise they will never come back again. Your website's first-impression is very important to those potential customers.

Brand your products and website on the point
· Mesh primary and secondary colors well.
· Attractive and high quality written content
· Clear and nice images. (You should have your own products with model pictures instead of copying and pasting from others)
Do all of these elements to give a nice impression to a potential customer on your site more than seven seconds. It could also help to set up some credibility for your company. You will not purchase something from a website that looks like made by an amateur or just a copy.
Those potential customers will go further click on your products and find something interested when you've succeeded grad their attention.
Fiction
1. Registering a Domain Name Means You Own It
First of all, I want to clarify you must have two things in order to have a website: a registered domain name and a hosting. It is important to know that they are not the same thing.
Registered domain name: The domain name is your actual web address. You must register with a domain registrar to have it.
Web hosting: The web host stores your web site that your registered.
People still get confused about those two things because you can also purchase a domain name from the company who offers web hosting for you.
As a tip, I will not buy those two things from the same company because if something wrong with the web hosting, I want to be able to keep my domain name away from it. Then you will don't have to worry about the web hosting issue will hold on your domain name.
Remember it when you decide to start building your own website.
The Domain Name
There is another big misunderstanding about the domain name. After we registered a domain name and paid for it, a lot of people think that means we actually own it. However, we're just renting it. If you forget that you are renting the domain name and do not take care and update it, you'll get a lot of trouble. You customer might go to a non-existent website or someone can purchase it from under you and then your customers will go to their website with a redirect. I don't know which is worse!
2. Orders will come automatically
Interesting thing is some people think that the orders will come automatically once they set up their website.
They think that family, friend and even strangers will come to purchase their products by themselves. But that is not true. It's nothing to do with your hair quality, your top fashion colors, your ease clip ins because no one knows your website if you don't do market launching.
Interest surfer access 40% of website through Google. It means you have to get your website ranked on Google and people who don't know you can see it easier.
It takes a lot of time marketing and patience to get on the first three pages of Google. So find someone to do it if you're not really into the whole SEO campaign or link building thing.
3.Too Much cost for Free Shipping
Can you believe that free shipping is the primary motivation for customers to purchase on line?
It's really unbelievable a customer will put $ 500 worth of hair products back and change their whole week plan just because of $10 shipping fee. Even though, a lot of online hair business company refuse to offer free shipping.
JC Hair Factory is one of the best wholesale hair vendors in China for more than 15 years. We provide wholesale virgin hair, dropship hair and custom packaging service to all our clients. Welcome to JC Hair Factory!!!