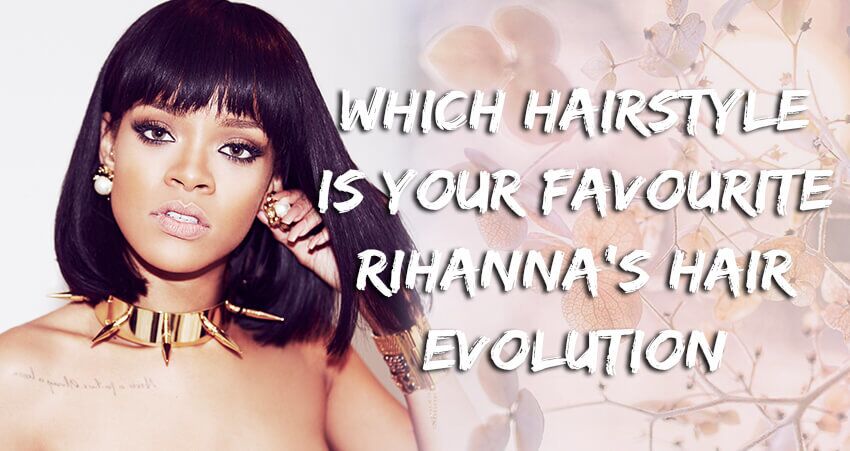 Which Hairstyle Is Your Favourite: Rihanna's Hair Evolution!
Posted By: Kate Rodrigues
Rihanna is the icon in musical with her endless dance hits and her edgy hairstyles.
Let us take a look at Rihanna's hairstyle evolution in today's topic.
In 2006 Rihanna play it safe with her long human hair wigs in various curly hair which was blended well with her bronze skin.
The early Rihanna was much sweet and who would have ever guessed that she begin to surprise all of us after the year.
Rihanna released an album <Good Girl Gone Bad> in this year and she changed her hairstyle into a short graduated bob wig with jet black color which was a signification of her musical and personal style shift.
Rihanna tried different bob looks from middle part to bangs.
But her most famous bob look was her asymmetrical bob which became her first iconic look. When you said "I want my hair like Rihanna", everyone knew what you were talking about. Fans from everywhere requested this hairstyle from their hair salon. Even 10 years passed this is still one of Rihanna's most iconic hair looks.
Rihanna was in a fiery red most of the year 2010, whether it was curly, straight, long or short. She gave many women the confidence to go red as well as go short in the past years.
Hair accessories are another way that Rihanna switches up her hair look. This sparkling headband adds an extra spark to her hairstyle!
Rihanna went blonde again in 2012! She looked full of vitality and carefree in this full curly blonde hairstyle.
In MTV VMAs live, Rihanna was chopped into a boyish short hairstyle. Bold rep lip and contracted white vest dress, Rihanna went back to her signature pixie cut.
In 2013, Rihanna was nominated by Grammy awards. She wore a long light brown curly hair wig matched with a red lip to hit the red carpet.
In 2015, Rihanna returned back to classic and elegant with simply styles.
RiRi showed grace at 2015 Diamond Ball with her long black hair styled straight back.
OMG!!! What a beautiful RiRi was! She was really suit this simple bob style.
Long straight dark hair again!
2018 Much more Personality
In 2010, Rihanna's cosmetics tutorials were popular on the internet. Comfortable dress with soft black curly hair, such charming and cute.
Which period is your favorite of Rihanna whether her hairstyle or her album? I do like the cute Rihanna in 2018.
Now is year 2019, we are looking forward to hearing more nice songs from Rihanna and also ready for some pop hairstyles from her as usual.