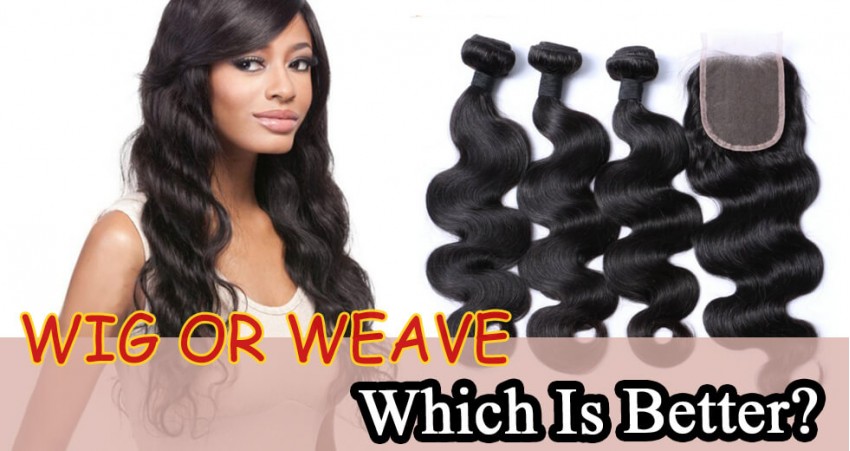 Wig or Weave, Which Is Better?
Posted By: Marcella Whyte
Wig or weave, which is better? For beginners, they are always confused how to choose between wig or weave. Here I would like to share my experience with beginners to explain why I prefer human hair wigs more than human hair weave sew-in. Everyone loves lace wigs because they are so easy and convenient. It can help your natural hair grow healthy in a protective hairstyle and still look gorgeous. You can just throw it on and go if you just need something cute to wear and it is a great investment because they can last you a really long time instead of buy hair extensions for a sew-in to achieve a certain look. Here I would like to share my experience with beginners to explain why I prefer wigs more than weave.
a. Maintenance
For hair bundles sew-in, you have to wash all the hair on your head and wash your hair underneath; you can't get to your hair when you need to scratch and it doesn't last forever. Even if you get a bomb sew-in, you are going to take it out eventually to maintenance your hair and get re-install. If you can not keep the hair in a good condition, you got to buy another new hair bundles. That is a lot.
For me, a wig is a lot easier because I can take it off and I can do whatever I need to do off my head. And it still lasts longer because you are not manipulating it every single day and you can take it off and put on a wig head. It is still in the same style that you did it in the day before.
The first wig that I ever got was a bang wig like this. It was from JC Hair Factory, one of best wholesale hair vendors for more than 15 years. It is my favorite wig of all time because it is the easiest way to throw on when you don't want to do your hair. Some wigs you have to line up the part and do all of that blending stuff. This kind of wig with bangs, you don't have to do that, which is why I wanted to introduce this one to you as a wig for beginners. I just took it out of the box, put it on my head and flat iron it. No blending, no complications, nothing.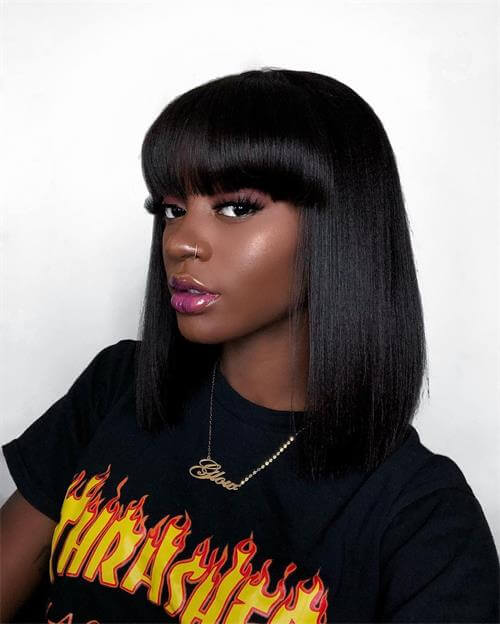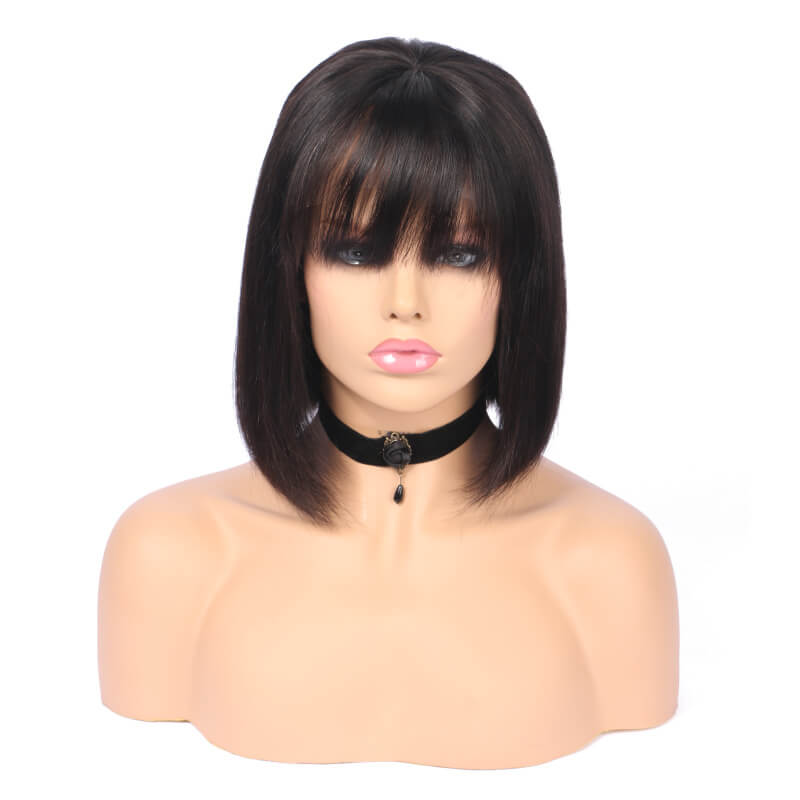 ( I am rocking the short bob wigs with bangs )
b. Costing
Another thing that has really been kind of issue with people buying wigs online is why does lace wig cost so much. I have had experience of buying wholesale Brazilian hair and getting it installed. You are spending at least $100 on one bundle hair. To get a full head, you would probably at least 2 to 3 bundles of hair. I used to spend about 200 to 300 dollar on bundles. That doesn't include the install price. Most of the hairstylists will charge you at least $100 to sew in your hair unless you got a friend who can do it for free.
Now you are at $400. If you were to get maintenance on it, you have to take it out and put it back in. That's another 100 dollars. You take it out and put it back in and your hair doesn't last very long if you are not going to take enough care of your hair, you are going now to get new hair. Then you are spending another $300 on bundles.
I believe this wig is about $250. Spend that much money on a wig like this. You don't have to get it installed and it is already in the style that you want it to be. So you don't have to get styled or anything like that. You spend that price one time and the wig will last you at least 1 to 2 years if you take care of it good enough. Spending that much money at one time as opposed to spending that much money every couple months. The wigs are great investments. They'll last you a long time and they are worth the money.
Why does full lace wigs cost so much
This is a full lace wig, so that means each individual strand of hair has been knotted to a lace cap that stretches to fit your head nicely and you can part it wherever you want. So it will look like a human scalp. That means somebody took each strand of hair with a small tool and put it into the cap. And it is not something you can do on your own. That is a luxury that you pay for.
Please remember that wigs at this price are not marketed for people who just want to play around with some hair. Full lace wigs are a lifestyle and investment or those who plan on exercising the longevity and versatility of the wig for an extended period of time. Obviously, these wigs are not for the average consumer. It is okay. If you have hair commitment issues or you just want something temporary or you simply prefer to hit and quit it. That's Okay! There are plenty of inexpensive options on the market made for you. You may also choose cheap lace front wigs or 360 frontal wigs, these two options are much cheaper than full lace wigs.
c. About JC Hair Factory
Specifically about JC Hair Factory. I mean you go on https://jcwholesalevirginhair.com/ to buy a wig when you will select the length. The length will change the price of the wig. So if you are getting wigs and say you want 20 inches of hair, you are not going to spend the same amount as somebody was getting a wig with only 10 inches of hair. Obviously, this kind of wig I am wearing would be a lot cheaper than a wig that is longer.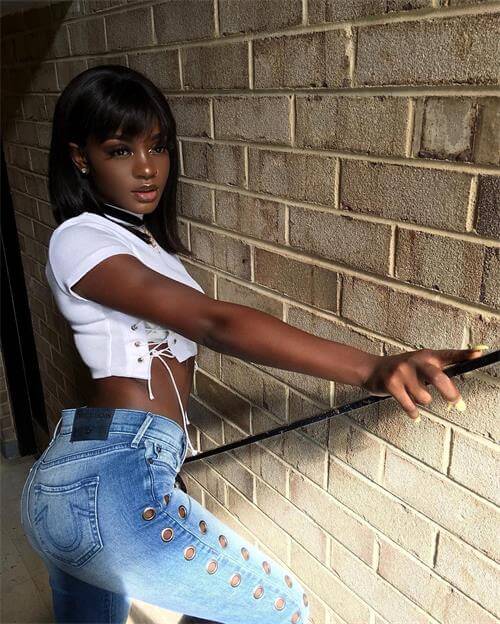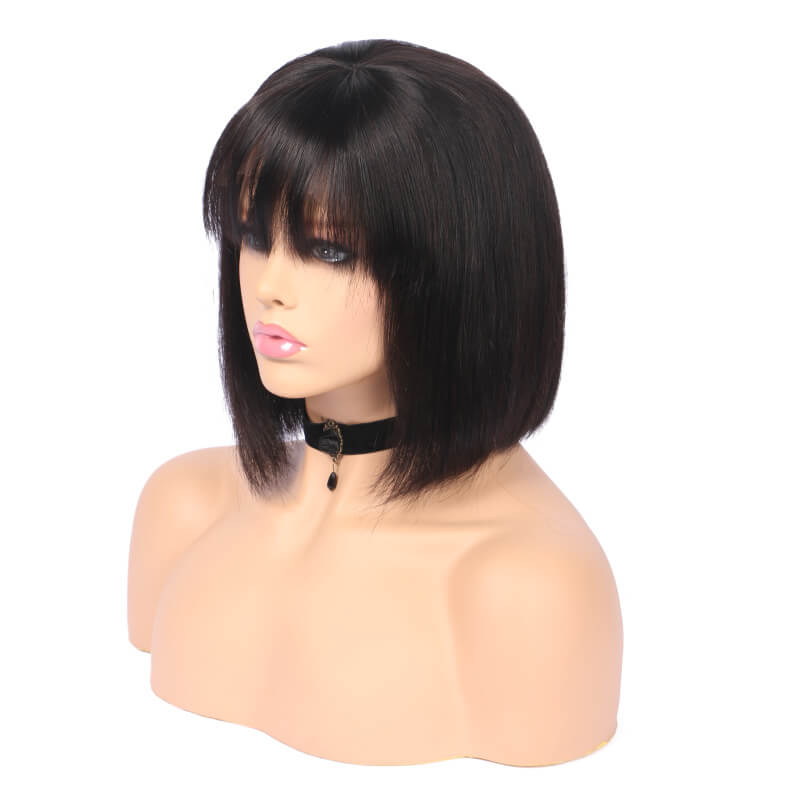 ( This hairstyle will slay the hair game forever! )
Make sure you are reading the information about the cap construction since there are different wig cap type-lace front wigs, full lace wigs and 360 lace front wigs. I always get a glue less lace cap in which you can wear it without gluing it down and it has combs & the adjustable straps so that you can adjust it and make sure it fits to your head.
Underneath, my hair is braided. Putting your hair in a ponytail and having your hair slicked back doesn't always work because the wig can easily slide back. So you need to make sure that your combs have something to attach to like the braids. Besides, you don't want to pull on the front of your hair too much because that will make your hairline recede. That's why I am doing a bang style instead of a parted style. It takes the tension off my hairline.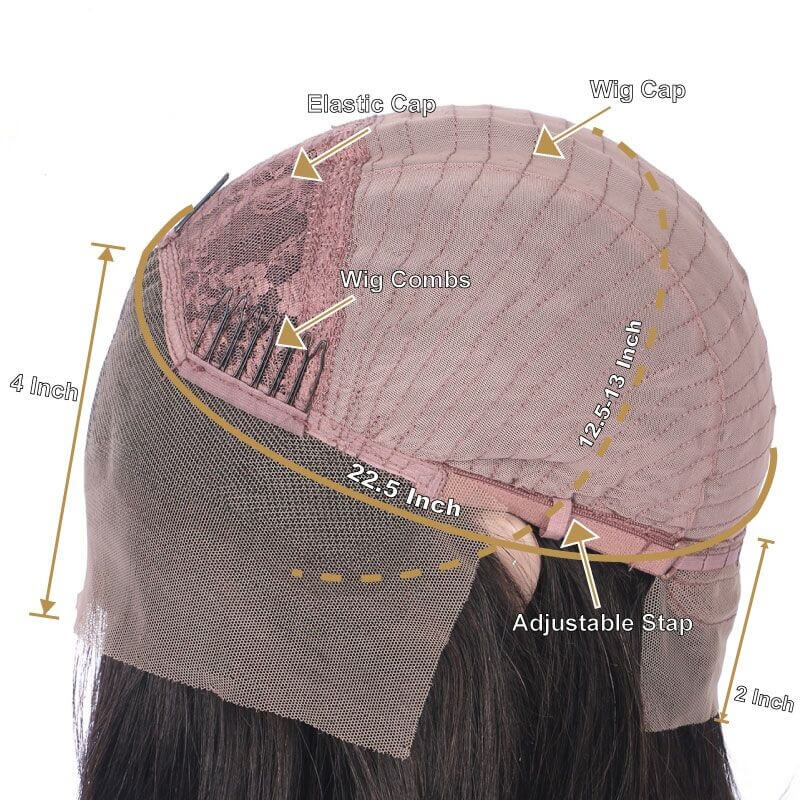 ( Inside the wig )
There are different cap sizes. If you don't know which cap size you will need, it would be smart for you to measure your head. The site does have measurements for the caps so that you know which size will fit you and if you are not sure, always ask customer service. They are there to help you. Let me tell you if your wig cap is too big, your wig will come off. I always get the smallest wig size because I know that the back of my head is small and then I adjust the straps as much as I can. It's not coming off when I pull on it; go on a roller coaster. And this wig is not moving.
When you order, you just want to make sure that you know that it is overseas. It is going to come with the DHL. So the shipping is fast. It is not long. If you order does take a little bit longer, it's because you did some custom things to your wig.
If you have further questions in regard to wig or weave, please feel free to send an email to us: [email protected], our Customer Service would contact you and provide best service within 24 hours.