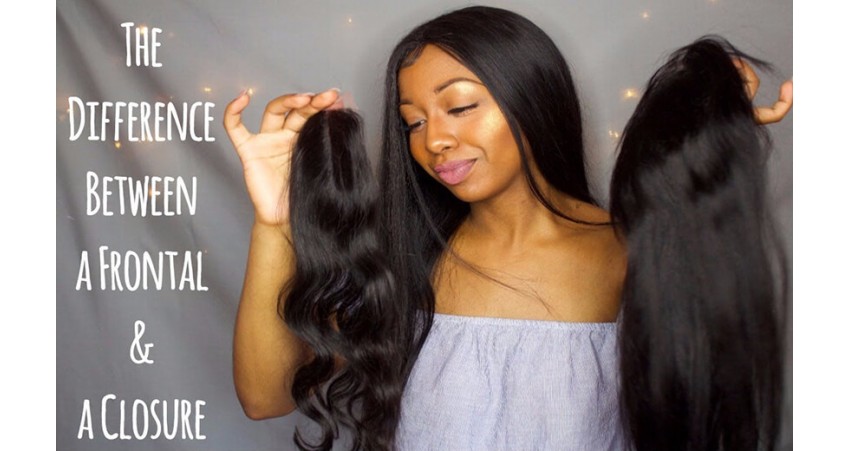 The Difference Between Lace Frontal and Lace Closure
Posted By: Marcella Whyte
Hi Ladies, today we are going to talk about the difference between lace frontal and lace closure. The are both used to complete a sew-in to achieve a natural look, but so many ladies are confused about the difference between lace frontal and lace closure, and don't know how to choose the right one for themselves. We will help you highlight what they are and which one is the best for you depending on what you need.
Lace Frontal 13" x 4", 100% Hand Tied,
Lace frontal is a large hair piece which is usually 13 inches length from ear to ear and it is 4 inches width starting from hairline to back. Maybe you would see there are frontals which are 3 inches width or 6 inches width in the market, but the most common frontal is going to be 13 inches length and 4 inches width.
There are three types of lace frontals:
a. All lace frontal, it is a 13 x 4 inches hair piece. It is all lace as you can see in the picture, which is used for the installation. It is really flat and you can achieve the most natural look with a customized frontal. We say customized because a typical frontal needs to be worked on to look more natural. If you look for a frontal on the market, make sure to ask them if they have already customized or make sure you hairstylist could help customize to make it look natural.
b. Another frontal on the market is a full lace frontal with a silk in the middle. So if you want to achieve a middle part or side part look, you could easily part your hair with that silk in and the hair looks as if it comes out from your scalp.
c. The third option of the frontal is all silk frontal. It is silk from ear to ear. To achieve a slick back style, the silk become too thick. So it may not give you the most realistic look or seamless look. However if you are going to part your hair to the any side of the frontal, it will give you a nice look. We don't recommend to use this type of frontal now because the most popular hairstyle now requires a very seamless look. People want their hair away from their face. So for that look, we definitely do not recommend all silk frontal. However, if you do like a middle part or side part or more parts on the frontal, then the all silk frontal will be a choice.
Lace Closure 4" x 4", 100% Hand Tied,
Lace closure is usually a 4 x 4 inches hair piece which is used around and in the front of your head to complete the whole sew-in. There are two types of closures.
a. All lace closure, just like the frontal, the lace closure is rein and froth.
b. Silk base closure, it is a 4 x 4 inches hair piece with a silk which is natural material. It will give you a very realistic look and like the hair comes out from your scalp.
Again, why would I go with all the lace closures? It is very simple. If I am doing a messy effortless hairstyle where I want all of the place, I want the messy part, then all lace closure is perfect. I would definitely recommend this. Also if I want a very flat, for example, I am doing a very, like, not so heavy hair, very natural and realistic hair, I would go with all lace closure because the lace is the closest to your scalp because it is so thin. Again, it has to be customized to look natural. So you get it to look natural, it would lay really flat and give you a very scalp-like look. If you are doing a middle part or side part, everyone is going to look right there of your head, so you want it to look most realistic, so I would say go with a silk base closure. Again, the silk has to be customized to match your skin color because silk comes in several color, medium-brown, light-brown, dark-brown, so you want to make sure to get your right shade. Please make sure if it is customized or your hairstylist could customize for you.
Typically, the only time I recommend a silk based closure over a lace closure when you are doing a very clean middle part or side part which require you to show scalp. And for a lace closure, I typically go for a lace closure when I am doing a very sleek, like a bob look, just because it is already a natural looking hair. So I want to use lace closure to go with. Also, if I am wearing a very big, bullshit curly hair, really does not need to see the scalp, I would use a all lace closure. And the all lace closure is typically less expensive. So you can save money.
Closure or Frontal?
Now, when I would use a frontal in stead of closure, for me, if I am doing a middle part or right part or left part, I stick with my closure. It saves money and it looks amazing. Why I would choose a frontal instead of closure? One reason is it is less expensive. The other reason is because you have a low hairline. And some people don't have much space in their forehead, which is actually a bless because it means you have a lot of hair. However, it does not quite work for frontal because with frontal. The hair line is created and that my actually look good since your hair is underneath while the frontal is above your hair. So if you have a natural hairline that is low, I would say do a 4 x 4 inches closure, not a frontal to achieve the look that you are going for. Also, if I am doing a bun, I would definitely want a frontal because it gives me more verities in styling or if I want to do a hairstyle like very sleek to my face and off top, I would go with frontal because frontal gives you a very sleek look on the top. However, if I want a lot of hair like ball around my face, I would go with closure because with the closure, I will have weft coming higher up. So in that way, I will get all the volume that I need. If you like higher if you are doing an installation. And when you cut it, it looks the best.
| | | | | | | |
| --- | --- | --- | --- | --- | --- | --- |
| | Regular size | Showing the scalp-Middle part or side part hairstyles | No scalp showing-Slick back hairstyle | Low hairline | Need a lot of hair volume around the face | price |
| Lace closure | 4X4 | × | √ | √ | √ | |
| Silk based closure | 4X4 | √ | × | √ | √ | |
| Lace frontal | 13X4 | × | √ | × | × | |
| Semi-silk frontal | 13X4 | √ | × | × | × | |
| Silk frontal | 13X4 | √ | × | × | × | |
I hope this was helpful and if you have any questions regarding lace frontal and lace closure, just leave your comments or send an email to [email protected]. One of our staff would reply your email and provide our best service to you within 24 hours. JC Hair Factory is one of best wholesale virgin hair and wholesale hair vendors in China. We always supply high quality hair extensions at real factory prices for both wholesale and retail clients. If you have any questions or inquires, please feel free to contact us directly.
Related products
Related Posts