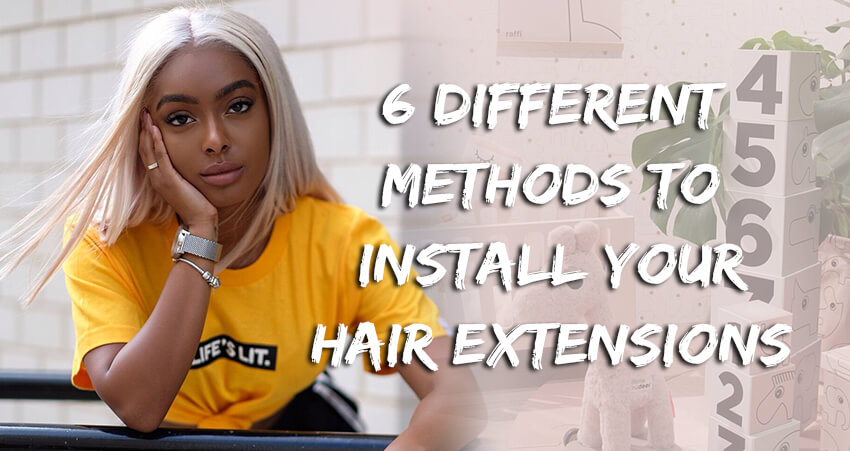 6 Different Methods To Install Your Hair Extensions
Posted By: Kate Rodrigues
I believe that most of you are using your typical glue and sew in methods to install your hair extensions because they are the most popular. However, there are tons of methods that you can't image and some are very easy to do by yourself.
I will pick up six different ways to install the hair extensions which you could choose some to try which are suitable for you.
1. Glue
Most of you may think the glue-in method is the simplest and fastest way, so do I. However, it may cause the most damage too. There are two ways to apply glue-in which are depended on the sew in hair extensions installation.
The first method called a "quick weave". You can braid or just lay your natural hair down and put a weave cap over your head, then you can glue-in the hair extension on the cap. The cap is protecting your head away from touching the glue directly. Once the cap and the hair extension are set right, glue in each layer by measure the track and then pressure to the head. That's it! Is it really easy?
you can glue in hair extensions is by braiding or laying your natural hair down and placing a weave cap over your head. The cap is acting as a barrier between your hair and the glue. Once intact, measure the track needed per layer, glue and apply pressure to the head. That's it! Really easy!
The second way is the similar but we don't need the cap. Some people don't mind having the glue contacting directly with their natural hair. Theirs is a special kind of glue are suitable for this way. This special glue is more like a molding get which can directly apply to your head. We just need to wait it dry and then apply the tracks of extension on to your head. Just make sure to wash your hair thoroughly after taking off the extensions.
It's really easy and good option to use glue-in hair extension if you are following the correct instruction and tips.
2. Sewing
The sewing way provide a more stable style.
You need prepare a needle, thread and braid your natural hair before you start install this style. There are two common braid patterns for the sewing method, a circular style or straight back which is depend on how do you want lay the extension and where do you want to locate them. You might discuss with the person who is sewing for you.
First of all, you make your hair braid. Then comes the needles with thread tied. Strat sewing at either side of the hair through the braid then pull the thread out, and repeat.
The extension's track is locked to the braid by the thread so it's super stable and secured. Moreover, it's super easy to takedown the extensions in this way. You just need to cut the thread and take it down. It's better to ask someone to help you to cut in order to avoid cutting yourself!
3. Crochet
I don't know when this method began to be poplar and seems more and more women start to love this style since it's a fun, quick and easy way for them to do by themselves!
In this method, you need to braid your hair straight back. You need a crochet needle, slide it through the braid, open the pin on the crochet, add hair, close the pin then finished! So easy, right? Unless you are the one really doesn't want to do the hair, I do recommend this method for you especially for some big hair or big curly hair.
4. Clip-ins
Everyone likes to wear clip-ins, whoever is from celebrities, high school students even kids.
It's just as easy as their name, clip-ins. You can wear it to add some extra length, easy and fast. If you want your natural hair to have a full look, clip-ins would be a useful method.
Install the clips in where you want to the extension to be placed and use the clips like combing your hair.
5. Micro-links
Mirco-links could give a seamless and natural look which sometimes just looks like your own hair.
However, the installation might take three to four hours to complete by a specially trained hairstylist which is really a boring process.
You need a clamp too to install the micro-links. Micro links are a loop that can be applied to every strand of your hair. Put your natural through the loop and the links go through next, then clamp the section for securing.
If your micro-links are made by 100% virgin hair, you then could wash, cut, style, and color them exactly you treat your natural hair.
In this method, you could wear the extensions for a long time as you wish.
6. Bonding
The bonding method is somehow similar to quick weave method. However, through the bonding method you can use the extensions and leave out your natural hair at the same time.
Separate your hair and gently glue the tracks underneath the scalp (to keep the scalp breathing) while doing bonding. Different options on this method that some think this method will damage your hair and others believe that the damage is depended on how you take off your extensions.
This method offers a really natural look because it the extensions are well blend with your natural hair.
Now you have some ideas of different methods to install your extensions and it would be useful for you while choosing extensions. You could try some different methods which might give you some surprise.
Comment below with any new ideas and nice images of your own extension style are welcome.