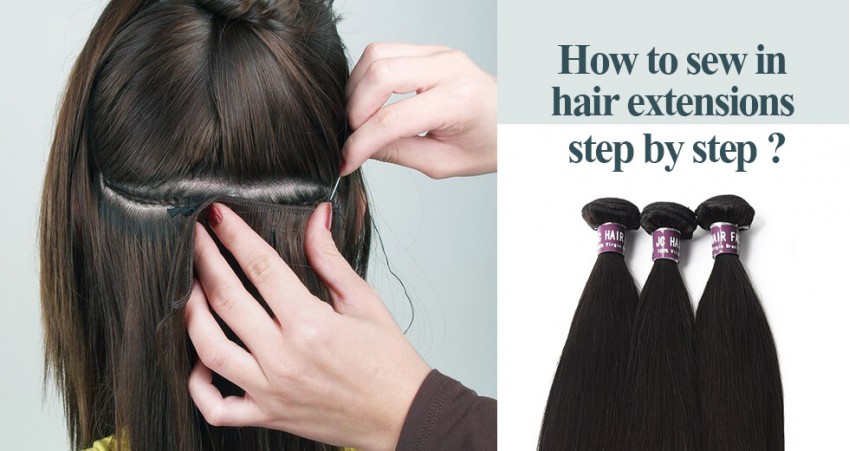 How To Sew In Hair Extensions Step By Step
Posted By: Julie Morris
To be a beautiful lady, you can't be without wearing hair extensions. A new hair extensions represents a fresh style, you could choose your suitable hairstyle. After you get human hair bundles and lace closure or lace frontal, if you're not interested in going to a salon to set your new weave, you can do it at home with the right tools and steps, I am sure the weave made by yourself will let all your friends jealous. And more importantly, you could change your hairstyle easy when you are tried with the one you wear now.
I know the fact that makes a DIY sew in hair extensions is difficult, so now I will share some tips on how to sew in hair extensions step by step.
1. Preparing your hair base condition.
a. In order to sew in hair extensions, you should have at least two bundles of human hair weave with a color that coordinating your natural skin. If you like your hair is very full, I suggest 3-4 hair bundles. You also need curved sewing needles, a wig cap, a wind tooth comb, and the thread should be the same color as your hair color.
b. Before making a style, you should prepare your hair weave. The prepare include hair washing and hair treatment. Washing your hair as you usually do and use hair conditioner to maintain the hair. Then you need to get the oils from your hair out, this will also help you last long time. These things that you have done can create a good conditioning treatment. And by the way, please make sure that your hair is dry absolutely before starting the extensions process.
c. For the hair extensions, you should buy a special loop brush which is wide tooth comb, and a bobby pin also very necessary. If you don't like the hair to cover your face, I will suggest preparing several large hair clips. Then use the loop brush to separate the hair into a few strands, and braid each of the strands. The first braid is a small braid that wraps around the outer edge of your face, head, and the nape of your neck. And please remember to make your center line for your favorite location.
2. Sewing the wig cap
a. Pulling your wig cap out sliding to over your head and to cover your entire hairline; The wig cap should coat your ears, forehead, and to the nape of your neck a bit so as to make sure your braids are completely covered.
b. Starting to sewing your wig cap. Pulling the needle under the braid and through the other side, sewing the pointer twice around one edge of the loop, then putting it over the center of the loop to keep the knot hard and not easy to break. And remember to use a scissor to cut redundant wig cap section, and keep the center hairline before you maintain.
If you hope your hairline is more natural, add a lace closure to suit the top of your head would be a good choice. But if you don't like the closure, it's also workable.
3. Sewing in hair extensions
a. Firstly, unfold the hair weave and measure the length around the head, the second major part you need to measure is your hair middle part in the top of the end. Add a little extra length to your measurements and then cut off remainder weave. Then sew in your hair extensions follow your braid needle by needle.
b. Complete your head fill. Use the exact same method to sew your human hair extensions to the wig cap. Please always remember to make a knot at the beginning of the weft to ensure the hair extensions are very firm. When you finished filling your head, you can fix any extra parts that may hang in your head front.
c. The end of the extensions also very important. Fold up two or three needles, then pass your needle through one of the sutures, draw a winding, and then tie your needle through the coil to knot. This will help you fix the hair extensions.
Sewing hair extensions by yourself can not only save your money for human hair weave installation but also help you get more knowledge of hair fashion. Now, don't you interested in sewing your own hair extensions? Just try it!
JC Hair Factory is one of best wholesale virgin hair vendors in China for more than 15 years. We offer best quality but cheap wholesale Brazilian hair and wholesale human hair wigs to worldwide markets. Welcome to visit our factory!
Related products
Related Posts