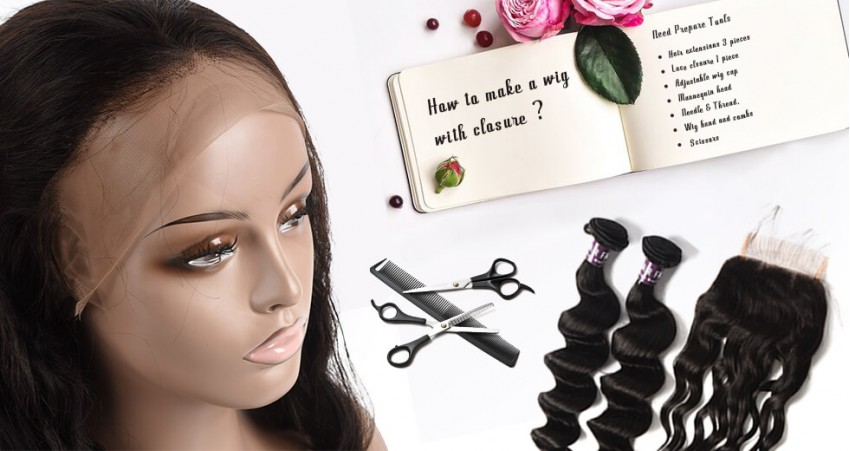 How To Make A Wig With Closure
Posted By: Julie Morris
Human hair wigs are becoming an indispensable necessity in a lady's daily life. Many people are crazy about the wigs. So how to make a wig with closure? As a wig beginner, you could understand the wig's world quickly if you know how to make a wig with lace closure very well. Although the full lace wigs, lace front wigs and 360 frontal wigs are very popular now, there are many people enjoy making a wig by themselves, the reasons are as follows:
a. To have the wigs more suitable
There is no doubt that every lady loves hair extensions, and loves her own hair as well. Wear a wig can protect our head and hair, especially when we wear a very suitable wig. It's benefit for our hair. When you go to a wig store to buy wigs maybe you won't find a wig that well fits your head, such as it's bigger or smaller for your head size. In these cases, using 2-5 human hair bundles plus a lace closure to make a wig by yourself is the best choice.
b.To save your money
Saving money also an important reason for making a wig with closure. Comparing the price of wigs and bundles plus closure under the same length, a wig is far more expensive than bundle deals. And by the way, you could make the wig fuller by bundles and closure.
Do you want to make a wig by yourself after seeing these reasons? If yes, please follow JC Hair Factory to learn how to make a wig with lace closure!
1. Choosing high quality hair bundles and lace closure for a whole head.
Now there are about three types of hair on the market, they are 100% human hair, human hair mix animal hair, synthetic hair. And even though the hair is 100% human hair, it also has the big differences between non-remy hair, remy hair and virgin hair. So it's very important to distinguish the quality when you buy hair from online hair store. I have published some blog posts about the hair quality. You could find them at the end of the post. Maybe you could get inspired about how to choose high-quality hair.
As for how many bundles do you need for a whole head, it's more according to the length.
8 - 10", 2 bundles
12 - 20", 3 bundles
20 - 24", 4 bundles
24 - 30", 5 bundles
2. Preparing the tools
After getting your lovely hair, the following tools also essential:
a. Bundles for a whole head
b. 1 piece of lace closure
c. 1 suitable wig cap, adjustable band, and some combs(or pins)
d. 1 mannequin head
e. Needle, thread, scissors
3. Making process
Making a wig for yourself sounds like very difficult, trouble or even terror, therefore many people give up trying to do make wigs with closure then find professional or trusted people to make for them or going to store buy a wig directly. Actually, with a relaxed mood and suitable tools you can make your own wig, this not only can save your money but also can help you have the wig that very fits your head, and when you finished your own wig in person you will have a great sense of accomplishment.
Before making the wig, you could bleach the knots if you like the wig more natural. There is also a guide on it from my blog How To Bleach A Lace Closure, but I don't suggest bleach by yourself because of it easy to shedding if you make any mistake.
a. Fix the wig cap on the mannequin head.
b. Fix the lace closure in front of the cap then use needle and thread sewing the lace closure into the cap from one side to another side, it will be more secure if you loop it two more times. And please don't forget to sew the lace closure very flat.
c. Sewing hair bundles from the bottle to the top round and round.
d. For your better to wear your wigs You can add the wig band and combs which will let the wig more comfortable to wear.
e. Cut the extra lace carefully.
Great! Your wig has finished, then you can style it and make it more beautiful. In addition, if you want to dye the hair, I would suggest dye the hair first then make a wig, this tip will avoid shedding. I hope this blog is helpful on your way to make a wig, believe me, this will let you very excited and proudly. Try it now!
Related products
Related Posts