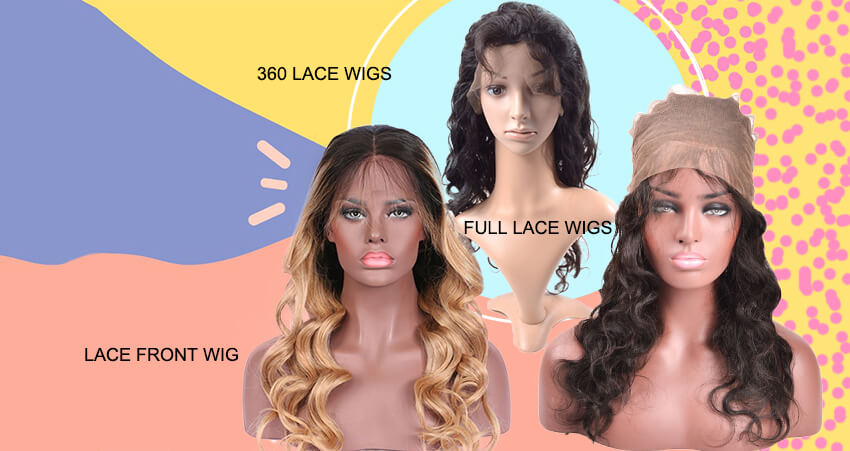 The Difference Between Full Lace Wigs, Lace Front Wigs And 360 Lace Frontal Wigs
Posted By: Kate Rodrigues
Human hair wigs is one of most popular fashion items in our daily life. More and more ladies like wigs and love to wear them for a party or an appointment. What are the difference between full lace wigs, lace front wigs and 360 lace frontal wigs? Today I would like to share with you about the difference between the 3 types wigs.
a. What are full lace wigs
Lace wigs will make you look very perfect which offer a lot of versatility. Full lace wigs lace cap is 100% human full hand made knot wigs, which is very exquisite. When you wear full lace wigs, it is very natural and comfortable. Full lace wigs can created most versatile. You can free part any direction, because each strand hair is knotted the lace cap, like your own hair. You can make middle part, three part and others also can make hair ponytail, and invisible knots is our factory excellent technology. Natural hairline with baby hair is very perfect. Full lace wigs are very convenient which you could take off easy, make any style you want. Full lace wigs this feature ask the lace cap quality must be very good, of course it is using very good quality swiss lace to make avoid to the lace cap break down, breathable is very good, also this can be adjustable suitable for your head. The lifespan is also very long.
b. Lace front wigs
Lace front wigs is half hand made and half machine made wigs, the front position is a 13x4" lace frontal made by hand knotted. Usually it is ear to ear coverage at 4 inches this position. Also all around the wigs is hand knotted, the remainder of the wigs just have lace cap is machine sewn onto the breathable cap. This position usually use 3-4 hair bundles to make, and the lace cap also breathable, and lace frontal wig also can free part any direction, but it just can make low ponytail, if make high ponytail will not good. The lace back is machine made,this look like a little embarrassed, lace front wigs maybe is not better than full lace wig, but that's also a good choose when you have no enough money.


c. What are 360 lace frontal wigs
360 frontal wigs is using 360 lace frontal to make the wigs, just the top head is machine sewn onto a breathable cap. Usually just need 2-3 hair bundes is enough, about 2.5 inch to 4 inch around entire crown area, 360 lace wigs hand knotted size is more than lace frontal wigs, so it is more comfortable than lace frontal wigs,price also cheaper. Now 360 wigs is more and more popular, many girls choose it. 360 lace wigs also can free part any directions, can make any style you want, like high ponytail, because the lace back is hand knotted size, it will look your own scalp. This feature make 360 lace wigs more and more popular, it price is very cheaper, the effect is similar to full lace wig.
Which wigs should I choose?
For full lace wigs, lace front wigs and 360 frontal wigs, which wigs should i choose? I believe every ladies is confused, in fact this is easy, it depends on your demand and which hairstyle do you want. Of course, most important is depends on your budget. Generally full lace wigs is most costing, because it's 100% full hand made, quality is very good and lifespan is very long. That is very exquisite, and lace front wigs and 360 lace frontal wigs would be much cheaper .
How to keep the lace cap size?
When choose a lace wigs, how to keep the lace cap is suitable for your head,there are many different cap size. But which size is you need. This ask you before buy the wigs you should measure your head size, know your head size will help you find suitable your wigs, also you don't need do this, because now all the wigs cap is universal and adjustable, whatever you head is small or big ,all is available. If your head is special also is ok, our factory also accept customized.
Lace wigs are becomming more and more popular among women. They are necessities of women nowdays, especially for black women. JC Hair Factory have a lot of high quality but cheap human hair wigs in stock. Women can order the wigs from our factory hair store directly at factory prices.
Related Posts