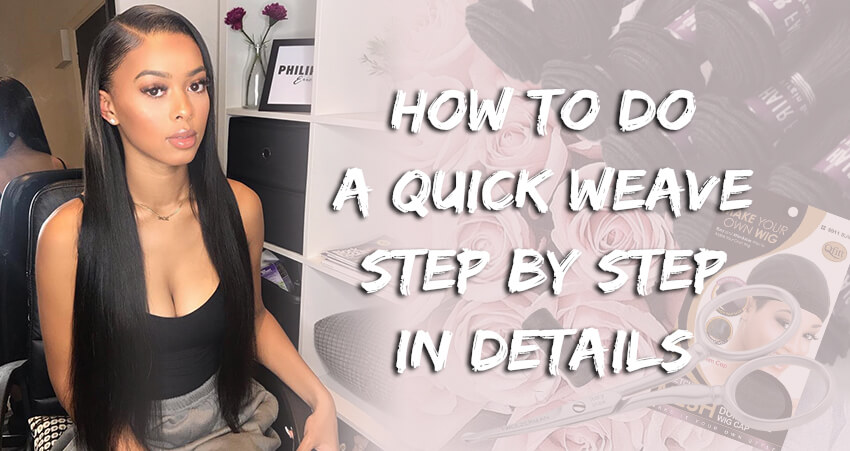 Quick Weave | How To Do A Quick Weave Step By Step
Posted By: Julie Morris
The Quick Weave is a Quick Way for Beautiful Hair
We sometimes are wondering how those women always change their hairstyles in a short time, from short to long, from straight to curly, from blonde to black and all look so great. In this article, we will tell you about these magic things done by a quick weave.
What Is a Quick Weave?
A quick weave is a process through which you can fast your human hair weave to your hair or apply a protective cap on your hair to give you a new style. There is another quick weave method is to use liquid gel to attach the hair weave on your head. My favorite way is to wear a thick weave cap to bond Brazilian hair which makes quick weave convenient. We can change our hairstyles on a daily routine or just based on our moods(Ha-ha, I know I'm not the only one who does like this…)
This option is the best one you can install by yourself at home and you don't have to be a professional with a license. You can quick weave short hairstyles, long hairstyles, straight hairstyles, and curly hairstyles as you desired. Just reminder do not rush in the process applying glue on your hair, it can cause breakage. Take your time and patience then you will look good. If you are still not sure the hair maintenance and would like someone else installs your quick weave than go to a hairstylist to make sure it looks great.
The Advantage and Disadvantage of Quick Weaves
The quick weave is a good option for those people in busy schedules or who want to change hairstyles frequently and even someone with hair problems. However, everything has two sides. We will discuss below the advantage and disadvantage of quick weave so you can find out if this option is suitable for you.
Advantage of Quick Weaves
1. The cheap cost to get a quick weave installed.
2. The shorter time to complete compared to the traditional sew in hair which is suitable for those don't or haven't long time sitting in a hair salon.
3. It can maintain three or four weeks with proper care so you save your time and get your money's worth.
4. It's a great technique for some protective hairstyle.
The disadvantage of Quick Weaves
1. You have to use a protective seal as a barrier over your scalp, otherwise, the glue from the hair extension might pull your natural hair out.
2. The adhesive can damage your natural hair.
3. Although the quick weave is quicker than most other types of sew-ins, it still takes to time to wait each track of the weft dry than you can apply the next time. The process requires patience.
4. Compared to the traditional sew-ins, the amount of shedding will be increased by cutting the weft.
Get Your Hair Ready for A Quick Weave
Make sure to clean your hair before installing your quick weave.
Use shampoo and conditioner to wash and care your hair. You must blow dry your hair thoroughly to avoid bacteria developing.
In order to keep my hair moisturized, I will apply the Jamaican Black Castor Oil on my hair by rubbing the oil in my palm first. If your hair is in long length, I suggest you repeat the process by several times to make sure all your hair is applied with the oil.
After using the castor oil, it's better to apply a quarter-size of leave-in conditioner to add moisture to your hair which will protect it while it is braided up.
Measure the distance between ear to ear around your back of your head before cutting the hair bundles, lace closure or lace frontal, make sure you keep the proper length to glue to your weave cap. After cutting the hair wefts, run your hands through the extension to check if any loose hair strand which needs to be removed. While applying the glue to the track, you can leave your track air dry right there one by one, or you prefer to use a blow dryer to quick dry each on a low heat setting. It's up to you.
Liquid Cap Quick Weave with Leave-out
Separate the hair that you want to leave out. Braid the leave-out section so it doesn't mix with the rest of your hair.
Apply the Salon Pro 30 Second Weave Molding Get on the rest of your damp hair. Be aware not to apply on the braided leave-out section.
Comb through the rest of your hair to smooth it down.
Use a blow dryer or wear a hooded dryer until your hair is dry.
Next step is to apply the Weave Wonder Wrap onto an application brush and brush all over the hair except the braided section. A small amount of the liquid is enough.
Again, you can use the blow dryer or wear a hooded dryer to dry the wonder wrap.
Once the wonder wrap becomes dry and hard, pull the thicker edge of the cap past your hairline.
In order to avoid gluing any weft in the leave-out area, you can use the white pencil to outline your braided section.
Glue the Extensions
When all above is well done, it's time to glue the hair weave onto your cap.
The Molding gel we applied before can keep our hair out of damage by the glue so never forget this step.
Now measure the extension and apply it glue to the weft. I would have someone to help me to do with the next part since I can't stand any glue leaving on my hands and fingers. You could wear gloves to avoid this situation.
Put your first extension at the nape of your head from edge to edge and use your finger to smooth the weft to be flat. Pull the stocking cap down in the back because the thick band will be cut off later.
Use the blow dryer to dry the weft thoroughly to your cap. You know what, one your index fingernail bed is a good guide as the distance of the two extensions between. Take this as the measure for each extension and it works! Measure it from edge to edge of your nape area.
Measuring the Hair Extensions
In order to make your edges looking flawless, you should better measure your hair extensions from the edge of your hairline instead of the edge of the stocking cap. Then bring the weft of your extensions a little back from the edge of your hairline instead of put it to the very edge of it.
In this way, your edges can be shown off after the quick weave has finished.
You glue the tracks in from front to back on the top of your head. But don't use the guide about fingernail bed that I suggested above because you don't want to have some space between each weft on the top of your head.
Follow along the white line on the cap to glue your wefts. Dry the wefts thoroughly once your close to the mark.
Check and cut off the excess (visible) part of the stocking cap around your head and leave out. Use the flat iron to smooth your natural hair to blend the extensions with your leave out.
Apply a little oil to the hair which can soften the gel or edge control that use to lay down the leave out.
Now you can style your extensions and show your new hairstyle off to everyone!
Liquid Cap Quick Weave Without Leave-out and Invisible Part
Apply the Salon Pro 30 Second Weave Molding Gel to all of your damp hair.
Comb through your hair to smooth the hair down.
Separate your hair which you want to be invisible. Blow dry your hair. Squeeze a small amount of the Weave Wonder Wrap onto an application brush to apply the liquid barrier all over your hair. Use a blow dryer or wear a hooded dryer until the wonder wrap is dry.
Set Your Hairline
Again, pull the thicker edge of the stocking cap past your hairline once your hair is dry. Make a mark on where your stocking cap will be placed in with white pencil or some other kind of marker.
Pull your stocking cap to the edge of your hairline and press gently to secure it in place. Dry the area of the hair.
Measure the extension and glue the weft to your hair. It's better to have someone to help you to do this or you can wear gloves to avoid glue sticking on your hand and fingers.
Put your first extension at the nape of your head from edge to edge and use your finger to smooth the weft to be flat. Pull the stocking cap down in the back because the thicker band will be cut off later.
Dry the weft and the cap thoroughly.
Applying the Tracks
Again, measure your extensions from the edge of your hairline instead of the edge of the stocking cap because you will cut the excess off later.
Glue your tracks in the white line on the cap that you marked before. You'll make sure to put in your invisible part wefts before you start to cut your stocking cap.
Cut off the excess (visible) part of your stocking cap from around your head, then cut a very small weft to start creating the invisible part. Glue the remaining part of the stocking cap down right alongside your part. Through this, you can make sure your part isn't too wide.
When you move up the part with your small wefts, you should make each one just a bit bigger than the one under below so it can be covered.
Take your time to do this to make sure the wefts are placed as realistic as possible to achieve the final nice look.
Quick Weave with a Braided Foundation
There is no particular pattern to create your braided foundation, you can just cornrow your hair.
Divide your hair into three parts. Slide down about a quarter of an inch to half an inch before your braiding. Add synthetic hair to each braid which can help to make sure your hair last longer and reduces the tension on your scalp. Braid the rest of your hair to be neat and small so you can have a smooth foundation to make the quick weave looks flat.
Put on your stocking cap once you're finished your braids.
Apply your extensions in the nape in the same method of quick weave with leave out. Glue the extension in a circular motion at the midsection of your heard and crown, so that you will only have a small open small in the center of the crown of your head which you can cover it with a DIY closure.
Cut a weft about an inch long to make your diy closure. Apply the glue to your track and leave it to dry about 5-10 seconds.
Suggest attaching a clip or T-pin through the wefts to keep them all together so you can roll your weft tightly. Stay longer enough (about five minutes or longer) to keep the closure dry.
I will create a fan of hair around the wefts by fanning the hair out around it after the closure is dry. Heated flat iron could help flat the weft rolls to be smooth.
Be patient by doing this process as you don't want to have a messy look.
Quick Weave Hairstyles
Now here comes the most exciting thing, the unlimited styles of the quick weave! Let's go around some of them.
1.Pixie cut (Quick weave with no part)
This short hair quick weave pixie cut is a perfect style which is perfect for you whether you are rocking jeans, sweaters, or a formal dress!
Do remember Rihanna's pixie cut style, what lovely she is!
2. Bob (Quick weave with an invisible part)
If you want to have a sassy yet classy look, then go for a bob!
3. Long hair (Quick weave for longer hair)
Every woman loves long hair for no reason. Long hair can be styled in different textures and colors. Quick weave long hair can give you this versatility in a quick and easy way.
4. Bangs (quick weave bang extensions)
Bangs can frame the face but it needs to be trimmed every week. Quick weave can help to solve this bother and give you the elegant look!
Quick Weave Tips!
Hopefully, you now understand a quick weave is! If you install it and take care of it in a proper way, quick weaves can be your favorite go-to style!
If you are handy and willing to take time, you can install it by yourself with the right materials ready. Or you can find a professional to do this. All tips, comments, experience are welcome below.
JC Hair Factory is one of the leading wholesale virgin hair factory in China for more than 15 years. We supply best quality virgin hair to wholesale hair clients, dropship hair clients, hair salons and retail clients at real factory prices. Welcome to visit our factory!