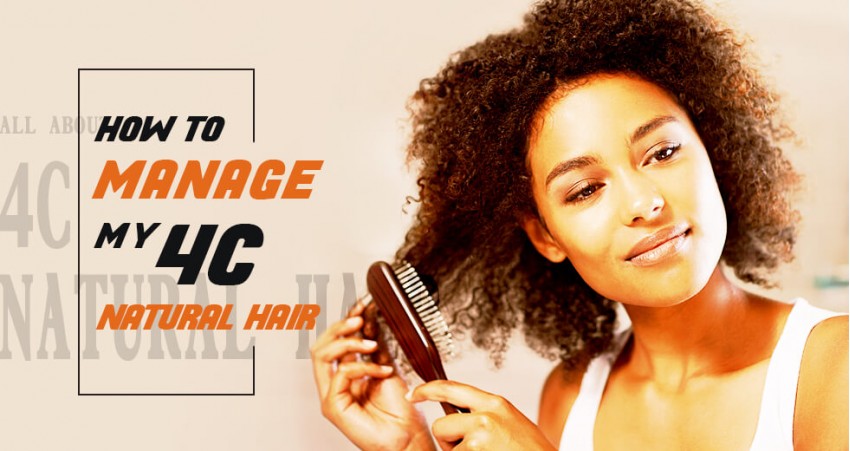 4C Natural Hair | How To Manage My 4C Natural Hair
Posted By: Karalyn Johnson
Lots of ladies are crazy about the 4c natural hair, but do you know how to manage 4c natural hair. Comparing with 4a and 4b natural hair extensions, 4c natural hair is the kinkiest hair texture in 4 hair family. It is more springy than type 4a with a z-shaped curl pattern. This hair texture is delicate and needs for additional tender and care because of its tight curls and kinky texture. Lots of ladies have questions on how to manage 4c natural hair. Some women with this type of hair have a curl definition, while others do not.
4c hair texture is very delicate in nature. You can find it as fine, delicate strands, or as wiry and coarse. This 4c natural hair can shrink up to 75 percent of its length. The diameter of a strand is much smaller than any other hair type. 4c could thrive in low manipulation environments. The more bends and curves can be found in a hair strand the more difficult it would be for the oil to reach the ends of the hair undisrupted. It is important to keep the ends moisturized if the curl is too tight.

If you don't maintain it well, 4c natural hair could be broken. so it is essential to learn how to care for it. You should love your natural state, whether you have the big chop or you're transitioning from relaxed hair.
4C Natural Hair Extensions
There are people who do not want to deal maintain their hair but still want to have the natural look, there are 4c clip in hair extensions for your choice. Clip-ins can give extra volume and length. This could result in blowouts, twist-outs, and high ponytails.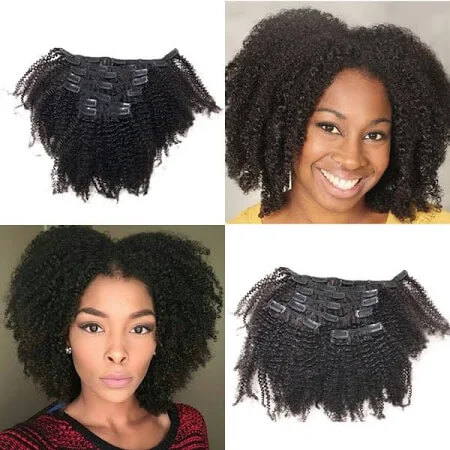 While for people who want to maintain the hair. There are three useful tips to help you maintain your hair and grow beautiful, long curls:

Firstly, do not comb your 4c human hair extensions when it's dry. It is better to comb your hair when it's soaking wet. Using the conditioner to give your hair slip. When your hair is dripping wet, it will be easier to section your hair and detangle under running cool water or have a mixture of water and conditioner.
Secondly, you could also use hair products, such as kinky curly hair knot today. This kind of products will give your hair better slip and help you to avoid tangled hair. Meanwhile, your hair will detangle faster and the curls will slide apart and not cling to each other.
Thirdly, Avoid using small tooth combs or brushes. Tooth combs might be helpful for making parts, but they'll wreak havoc on your strands. Brushes may also pull your hair strands, causing split ends and breakage. It's better to use a wide-tooth comb or use your fingers to detangle your hair instead. The best way to maintain your 4c natural hair is to develop a routine. This will help you to make your hair remain healthy, moisturized and ready to grow.
Moisturizing Routine

1. One of the most useful ways to keep 4c hair is to use the LOC method (liquid, oil, cream): Spray hair with oil such as coconut oil or olive oil. This combination will block moisture.
2. Use shea butter or conditioner, do not rinse. This method of moisturizing hair is called the LOC method. It seals moisture and is a key step for women with natural hair 4c.
3. Pull the hair into a ponytail or pineapple. Then wrap your hair in a satin hat or scarf. Wearing this extra protection will help the hair keep the hair hydrated. I follow these rules every day and every night, which helps me to grow and moisturize. My hair is very dry.
If you are currently wearing a protective type, be sure to moisturize your hair every day or every other day.
Co-Washing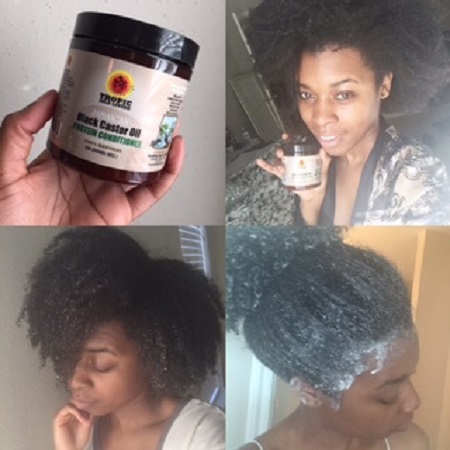 Total washing and lack of conditioner are essential steps for hair health. Shampoo removes the natural moisture from the scalp and hair, so you should try to limit the shampoo wash.
Try to wash your hair with only conditioner. While keeping your moisture, you will gently cleanse the product's accumulated hair. Many women with natural hair 4c wash their hair every week. When I wash my hair at the waist, I tend to reach the Heric Hydration. I don't use this product alone; I add jojoba oil and avocado oil and vitamin E to the conditioner.
With Shampoo
You should always use shampoo to thoroughly clean your hair, even if it causes dryness. You will find that washing your hair once or twice a month helps eliminate buildup. Be sure to follow all shampoos, intensive care, such as shea butter moisturizing mask.
With Conditioner
If you want long, healthy curls, you need a good condition. why? When you are conditioning your hair, you need to change the moisture needed for your hair and scalp. Use the LOC method to gain insight into all shampoos and conditioning treatments. This moisturizing technology will help your 4c natural hair protect yourself from moisture. This will help the moisture of your natural capillary 4c.
Always remember to split your hair during total washing and deep conditioning. Separate the bristles and apply them to evenly apply all locks. A rule of thumb is to apply the product to the end of the hair first and then work it the way you want. This will help unlock and help break the break.
Although lots of ladies have questions on how to manage 4c natural hair, I think you could get some tips from this blog. JC Hair Factory is one of the best wholesale hair suppliers in China for more than 15 years. If you have any other questions or inquiries, please feel free to contact us directly. Welcome!
Related products
Related Posts