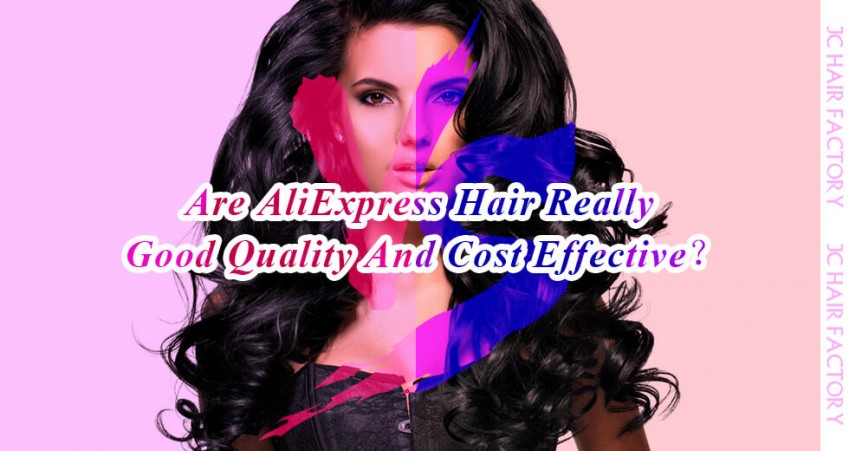 Are AliExpress Hair Really Good Quality And Cost Effective
Posted By: Kate Rodrigues
Now there are many cross-border electronic business platform for everyone who want to buy hair extensions from other countries. International B2C retail platform like AliExpress, Amazon are very popular among hair extensions suppliers in these years. But in recent years more and more hair suppliers begin to build their own independent hair store website to sell hair extensions.
In order to get same quality hair extensions as with lower prices, it's very necessary to compare AliExpress hair and the hair from other independent websites. Are AliExpress hair extensions really good quality and cost effective? Let's take a close look at the truth of AliExpress hair.
User Experience

The first important thing is AliExpress couldn't record customer's purchasing behavior and provide with more precise service. For example, it only could mark more frequent purchased customers and VIP customers who spend more money on their website. It's not fair for all ordinary customer even though they don't pay too much on the AliExpress.
Sometimes customers look forward to some suggestions when they are dazzled by so many goods which showing on the website. But AliExpress don't provide this service. However, independent websites can record information about visitors or leave contact information. In this way, the owner of the website which you browse will memory your browse info, then introduce the suitable products.
Extra Service Charge
No matter how harsh and unreasonable the policies of the AliExpress platform is, the hair suppliers don't have the ability to promote themselves, they have to accept it with tears. They paid more fee to the platform also means their profit will cut, the way to solve this problem is adding the extra cost on the hair prices to final customers.
Meanwhile, the implicit cost of using AliExpress is that the hair suppliers need to put more concentration on search new customer as AliExpress could not record customer's information, these cause many customers to complain company on the AliExpress are not professional, they couldn't let customers trust. But as AliExpress does so, the hair suppliers on independent websites could show more details of factory and goods. More serious is there are more than 5% fees of AliExpress commission of each order and 8% higher promotion fee added on sellers, this means higher cost with poorer customer service.
Fierce Competition
When you visit AliExpress, you could find lots of hair extensions at the same time, they belong to different hair suppliers, so you can see how fierce the competition on the AliExpress is! Based on the competition, the sellers will low the price to attract customers. But are they really willing to cut the price while they make smaller profits? No, they will work themselves to reduce their costs. Then how will they reduce costs, yes, you must have thought of it. It's selling shoddy products.
But Google doesn't. Although you will get thousands of results when you input a keyword, For example, if you search human hair bundles, there are more than 73600,000 results. The most amazing thing is when you searching wholesale hair weave, it shows 206,000,000 results. Then you could open the one which you are interested in. And independent websites have the full advantages to showcase the unique side of their products, only with the right scenes, wonderful product videos, existing customer shows, etc., marketing materials can be fully applied, even if customers still have to go back the AliExpress compares the prices, but the impression you leave him is not the companies on the AliExpress platform can compare to.
Not only that, independent websites show real and complete enterprises strength. The establishment of an independent website can publicize the company's profile, products and service quality, and fully demonstrate the professionalism of the company. The information published on the website can show more details, including various performance parameters and instructions for the product, and can use the web page with pictures and sounds to promote the brand image of the company and lay a solid foundation for the company's products to go international. Multi-language websites also easier to check by customers, and at the same time, your independent website will leave a great impression in the customer's heart. The trust, cooperation desire and actual transaction probability of customers will increase several times.
So the independent website is really the best place when you want to buy some hair extensions from other countries. And if you have or just want to start a hair business, we suggest you try to build your own hair website, or will you interested in join JC Hair Factory to be a dropship hair member? We are trying to help everyone to start her own hair business and make your business very easy. Welcome!
Related products
Related Posts