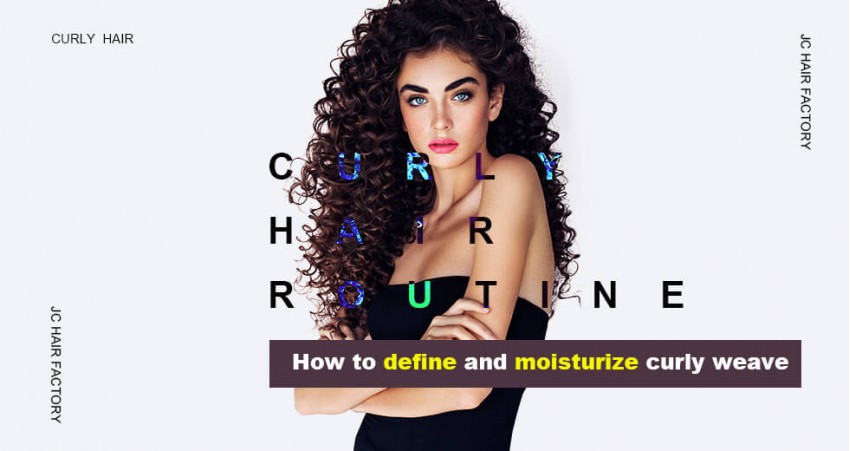 Curly Hair Routine | How To Define and Moisturize Curly Weave
Posted By: Julie Morris
Curly hairstyles and curly hair weave are perfect for spring and summer vacation. However, many women find that it is difficult to manage and maintain the curly texture. Today, I am going to write the post on curly hair extensions that I am rocking. I will share with you guys my curly hair routine and how I define my curls and what I do in that process and how I keep curly hair extensions healthy, looking good and fresh. This hair is super low maintenance, so it is really easy to do that. After that, I am also going to do a review on this hair for you guys.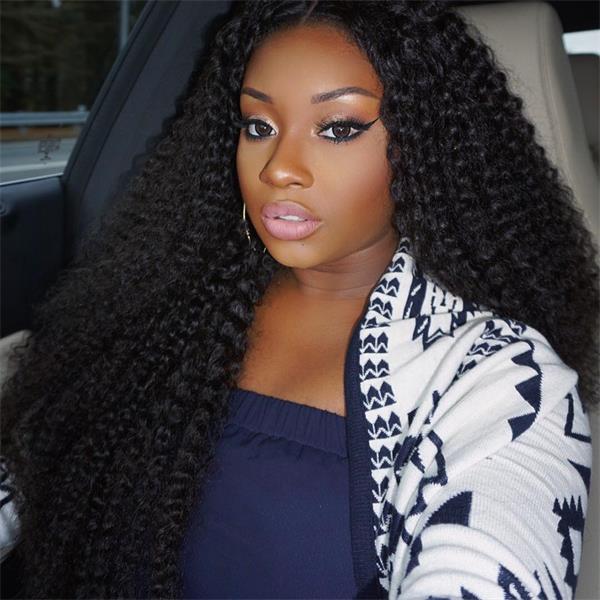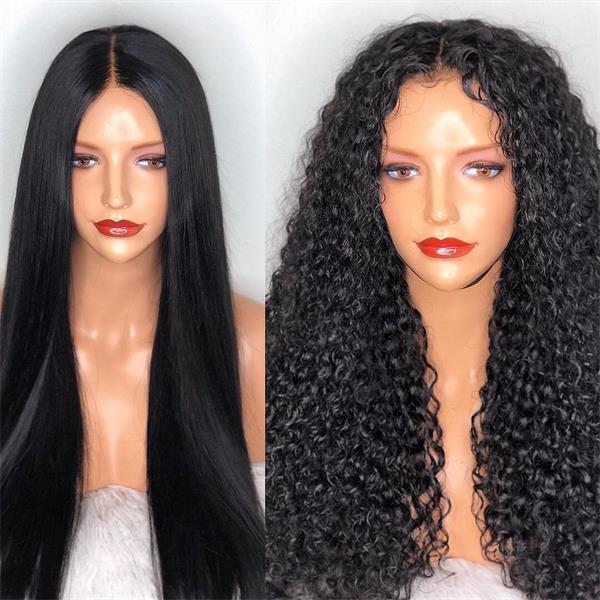 ( Make the curly wig by myself )
Curly hair routine and how to define curly hair extensions
The first thing you'll need is a Denman brush. This is a Holy Grail product for curly hair extensions.
Second, you'll need a spray bottle, curl spray (John Frieda Frizz Ease), a lightweight gel, some clips to keep your hair out the way and a big T-shirt.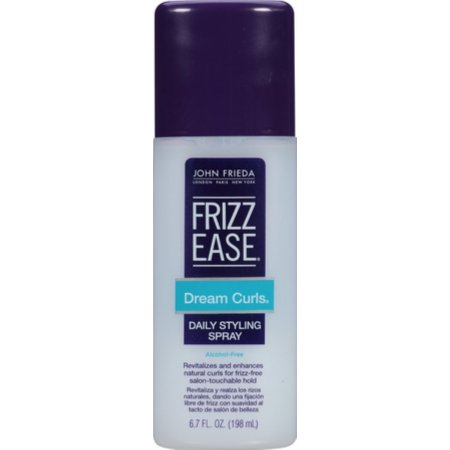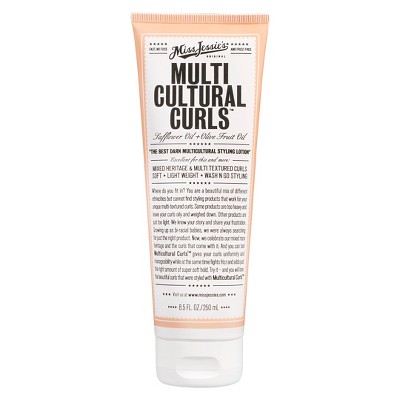 ( John Frieda Frizz Ease curly spray & lightweight gel )
Step 1 - brush the hair
The very first thing you want to do is to section your hair off with the clips. It's a lot easier to define your curls when you are working in sections. So that is the first thing I do is section my hair off and just start a small section in the back.
Then I will take my Denman brush and to just begin brushing out the curls that are already there. And getting out any tangle and basically getting the hair fluffed out.
Step 2 - get the hair wet
Second, I am going to start by taking a spray bottle filled with water only and spraying down the small part that I sectioned off. Sometimes, the hair does better if you mix just a little bit of virgin olive oil in with the water, but typically just water will suffice for defining the curls. We want to get it nice and damp. Remember just a little water at a time so you can kind of tell whether you are over saturating the hair or not. This is super important when you are defining the curls on any of your curly hair extensions. Doing the exactly same thing that I just did throughout the entire hair.
Step 3 - use curls spray
Next, I am taking one of my favorite, which is the John Frieda Frizz Ease and this is the dream curls spray and you are just going to spray it throughout your whole head of extensions. You want to make sure that you get a very bit of it especially the ends and you are going to run it through the hair with your fingers and crunch it up with your hands. This is going to really help to define those curls.
Step 4 - apply the gel
Next, I am going to take a lightweight gel. This is the Miss Jessie's Multicultural gel and this is going to set the hair and also allow the curls to just be a little bit more defined. So I am raking it through the hair and then I am scrunching it upward. Applying the gel on the hair while it is still damp. It is just a vital step to getting your curls to be defined and to getting them to stay defined.
Step 5 - T-shirt dry the hair
The last step is taking a really big t-shirt and just using it to scrunch up the hair. This is going to help it dry more quickly. You can also diffuse the hair with a blow dryer, but today, I just want the hair to air dry. So this is the hair after I have done all those steps and I allow the hair to dry for a few hours. The hair is still a little bit damp but you can always go in with a diffuser and a blow dryer to get the hair dry more quickly than just allowing it to air dry.
My first impression of the hair
I have 4 bundles of Brazilian curly hair (22", 24", 26", 28") and one 18" lace frontal from JC Hair Factory. I installed this on for a lace front wig, which is how I love to rock my hair. And you see the curl pattern of this hair and it is just so beautiful. It can get a lot bigger than this but for now, I want to show you how the hair looks fully defined. I love rocking curly hair in spring and summer time. It is just so pretty and it is perfect for vacation.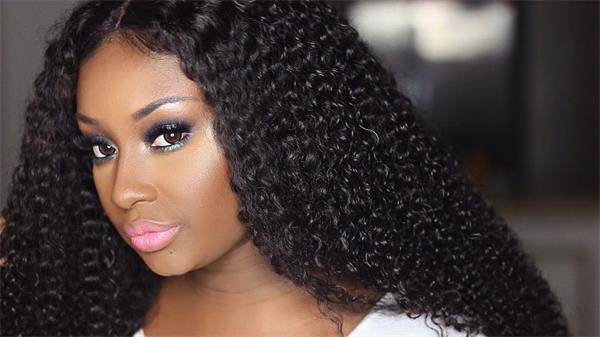 ( How the hair looks like after defining )
About shedding and tangling
I have had minimal shedding and tangling since installing this hair. When I first made my wig and I co-wash the hair. I did have quite a bit of shedding because I cut the weft and I did not sew my weft. If you sew your weft, you probably won't have that issue. But once I co-wash it after that first time, I have very minimal shedding.
Absolutely love that I haven't had a lot of shedding with this hair. And it is super easy to detangle. I hate it when I get curly hair and it is just like super like frizzy and unmanageable. This hair is like the exact opposite. I love it.
Hair color
The luster of this hair is low to medium. It is not too shiny and not too dull. It is like right in the middle. I love it. And I don't know if you can see the true color on camera, but the color of this hair like under natural lighting when I am outside is like a dark brown color. You can really see the ends of the hair are more like the medium chocolate brown color and then the rest of the hair is like the dark brown color. It is very beautiful but this is the natural state of the hair since it is virgin hair.
The hair is very very soft and it just has a nice curl pattern. It is like all the curls are a little bit different. I absolutely love it. Another thing that I love is the fact that the lace frontal matches the curl pattern of the hair bundles. Sometimes when you get the curly hair, the closure doesn't match the rest of the hair. But this frontal matches very well.
I love the fact that this hair, it does not get frizzy. It allows me to wear the hair and a more defined state and also a big state. And I just don't have to worry about the hair getting like so so big that I am like oh my God. It is just like engulfing my face.
The one thing about this hair is it does take a quite bit of time to fully air dry. This hair is pretty much 80% air dry right now but it is still slightly damp so I highly recommend you going in with a diffuser at the end of a blow dryer if you want to dry the hair more quickly. But I also have in four and a half bundles with the closure, so that's probably why mine takes a while to fully air dry.
If you are hunting for a perfect vacation hair or curly hair for the Spring and Summer, then definitely check out these hair extensions from JC Hair Factory, which is one of best hair vendors and hair suppliers in China for more than 15 years. If you have any questions that I didn't cover in the post, then leave it in the comment section down below. Welcome!
Related products
Related Posts